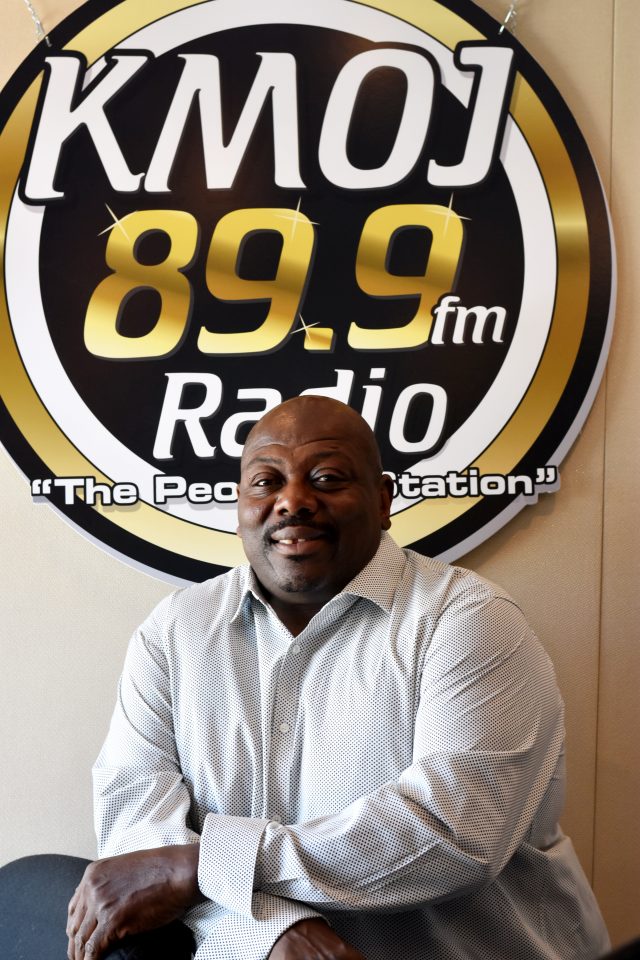 When it comes to Minneapolis radio and music, Walter "Q Bear" Banks, Jr., has graced the airwaves for 39 years. "I started out playing gospel, blues, jazz, and pretty much every genre on KMOJ," stated Q-Bear.
As operations coordinator and afternoon drive-time DJ, this quadragenarian gives listeners not only good music; they also get a history lesson –"Q-ology" style. Q-Bear best defines Q-ology as "made up words of stuff that existed that I can explain to you about what's going on or how something happened." 
When it comes to Minneapolis, what made their music stand out more than other cities was the Minneapolis sound. "Man, that Minneapolis sound was a beast. I think that's what put Minneapolis on the map for music," stated Banks. "When record labels were looking for new artists coming from the Twin Cities, there would be stacks of everybody else [music] then there were stacks that said Minneapolis sound. Back then, there were no CDs, there would be stacks of cassette tapes." 
During a time when most groups where following suit or copying other artists and bands, Minneapolis was doing something different. It had its own sound and style. Just as the P-Funk sound of George Clinton and his Funkadelics ruled the 70s, the Minneapolis sound at the dawning of the 80s transcended all other sounds, making it a force to reckon with.
"Parliament-Funkadelic had that funky groove that when they came on you knew what to expect," recalled Q-Bear. "It had a uniqueness [the Minneapolis sound] that had a lot of different flavors." 
Minneapolis and Saint Paul offer a host of artists with raw talent and unique sounds, such as three-time Grammy award-winning Sounds of Blackness. There are The Steeles and Peterson families. There are veterans like Kathleen Thompson, who sang backup for Prince in the 90s. Mario Dawson, who has been considered the most powerful drummer of the Minneapolis sound era. Patricia Lacy-Buckner, who used to sing back up for Luther Vandross. Now, there is the new generation, which spawned artists like Ashley Dubose and Paris Bennett, both of whom were former contestants on "The Voice" and "American Idol," respectively.  
During my 60 minutes of Q-ology, I was able to ask a few questions, which offer a glimpse of what the Minneapolis sound was and still is today. Check out the rest of Walter Q-Bear Banks' responses.
Besides the Minneapolis sound, a lot of gospel comes out of the Twin Cities. How would you describe it?
When it comes to gospel music, we have some of the biggest and best right here in the Twin Cities. You have James Grear, Jovonta Patton, The Buckner Family, The Sounds of Blackness. There are so many more. If I took an ink pen and started writing, you could call me a week from now and I would still be writing.
What artists in the Twin Cities do think have been overlooked?
There are so many to where I would slap myself by mentioning some names and not getting others:
There is a young man named Sonny Thompson. One of the baddest bass players who played for Prince. He was that dude back in the day.

David Eiland — [One of the founding members of a group called Flyte Time.] When he played a flute, he made sounds that where unheard of.

A young cat on keyboards named Ryan; he has been keyboardist for the Jonas Brothers, Stokley Williams and backed Stevie Wonder.

Chance Howard, who plays keyboards and vocals, is amazing.

One of the most amazing dudes that's still in the Twin Cities, and I love him for being here is Jelly Bean Johnson. He played drums [for The Time] but for raw talent listen to him on the guitar. This dude plays a guitar to where it talks to you.
During the height of the Minneapolis sound era, what was the city like?
What I think was really happening, Minnesota was finding its Blackness. You know when a person has been slapping [you] all day and then you finally say you had enough of it, then you start doing what you need to do or what needs to be done, regardless of what others thought about you? That is what was happening back then. There was so much separatism and racism, which had been going on for years when it comes to Minnesota. Sometimes, when we talk about the "Minnesota nice," it really was not so nice for some people. So, it started from there to people playing and expressing themselves through music.
You were good friends with Prince. Name one of your most memorable moments.
Man. Prince did a five-day concert in the Twin Cities and I went to three of the days. Two of those days, I sat in the same seat, which was eye level with Prince. To have all those people in the area while he was performing and look at me and say,"Q-Bear, what do you think now?" right in the middle of a concert was amazing. I still get chills when I talk about it.
Who were some of the DJs responsible for playing the Minneapolis sound?
When it comes to names, I don't want to miss anyone but here are a few back in the day that come to mind:
Kyle Ray the Super DJ,  the Golden Voice –  KMOJ and the Fox Trap

 Pharaoh Black (Thornton Jones) – KUXL 

Spider J Hamilton – KPRS

Billy Bump

Derrick Delite

Stevens Smokin D

Dan Speak 

Disco T

Dell Dilla
Bringing it forward, it would be
Ray Seville – KMOJ

Michael Mack

Brother Jules

Travis Lee

Chuck Chizzle
If you created a time capsule for the future, what four albums would you put in it?
Purple Rain and I would also put in the DVD of the movie, so they can visualize how some of these young kids were acting.

Alexander O'Neil

Tupac — It don't matter which album 

Aretha Franklin with James Cleveland and Southern California Community Choir — Amazing Grace