NBA legend Michael Jordan was slammed on social media for looking drunk and deranged on the streets of New York City's Manhattan borough. He had bloodshot eyes as he clutched a mostly empty bottle of Tequila while reportedly carrying a box full of the potent liquid.
The GOAT (Greatest of All Time) was toting a box that had "TEQUILA" printed on the front, reports The Sun.
The adult beverage, which is originally from Mexico, usually contains an alcohol content of around 38 percent.
Perhaps he was celebrating a milestone. On June 14, 1998, Jordan won his sixth and final NBA title and a record-setting sixth NBA Finals MVP.
As soon as the Wilmington, North Carolina, native stepped out into the streets from his hotel, a herd of fans and onlookers stampeded over to interview him and get his autograph. But Jordan stepped past the horde as easily as he slipped by many of his opponents on his way to the basket during his hall of fame career.
Jordan, 55, draped in a grey Jordans hoody and grey trousers, was also carrying a large bag on his shoulders.
The bag, The Sun reports, was stenciled with the brand Air Jordan, which was initially created and produced exclusively for Jordan in 1984.
Ever since he stormed into the NBA and signed a historic deal with Nike, his Air Jordans have been the most sought-after sneakers ever made.
But that is not why folks were firing up Twitter. They were wondering if Jordan was inebriated in public.
"Michael Jordan Look wicked as F— with that slit in his face he call a smile," one fan said on Twitter. "Step aside Crying Jordan … and meet Drunk-ass Jordan #ErrJordan" another tweeted, referencing the popular meme.
"That's 'still drunk from last night Jordan,' " a third fan tweeted in response.
And that was just the beginning. Check out what fans had to say on social media: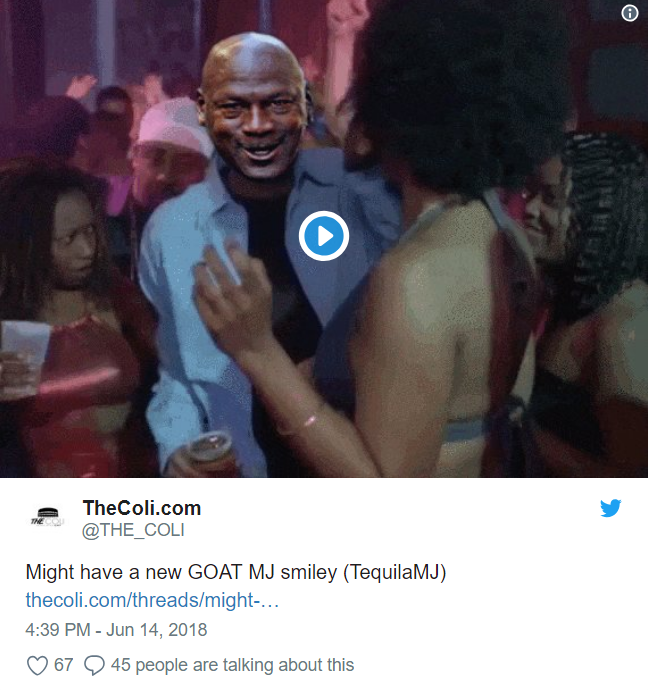 I can't be the only one who thought that #MichaelJordan was looking a lil evil leaving his nyc hotel room. pic.twitter.com/n8cl1Ks8cc

— Joshua Hess (@joshuajjuice) June 14, 2018
😂😂😂😂😂😂😂😂😂😂😂😂 pic.twitter.com/Ji27QzalC5

— Skoob 🇵🇦🇯🇲 (@TheKidSkoob) June 14, 2018
Goals: Michael Jordan strolling through NYC with a mostly-empty bottle of booze and case of tequila pic.twitter.com/4bbAs0m8Bz

— Marlow Stern (@MarlowNYC) June 14, 2018
Might have a new GOAT MJ smiley (TequilaMJ) https://t.co/yUcPnCb5gw pic.twitter.com/xObvTioMp9

— TheColi.com (@THE_COLI) June 14, 2018
Jordan looks like he's about to go drop 55 on the Knicks… as soon as he finishes off that bottle of tequila pic.twitter.com/hY79PWcErn

— 🅱🅰Ⓜ (@_bigbam_) June 15, 2018
MJ walking around with bloodshot eyes, a half bottle of tequila, and a pillow has me convinced I finally can be like Mike.

— Javon Parris (@jeaparris) June 15, 2018
I want to be this happy in life. 🐐 #MichaelJordan pic.twitter.com/UrpE1v5lRg
— HipHopWired (@HipHopWired) June 14, 2018
Tequila in hand and still the man! #MichaelJordan 🔥😂 #1 pic.twitter.com/oJwKOhLK3a

— Lavelle Hill (@HillLavelle) June 15, 2018