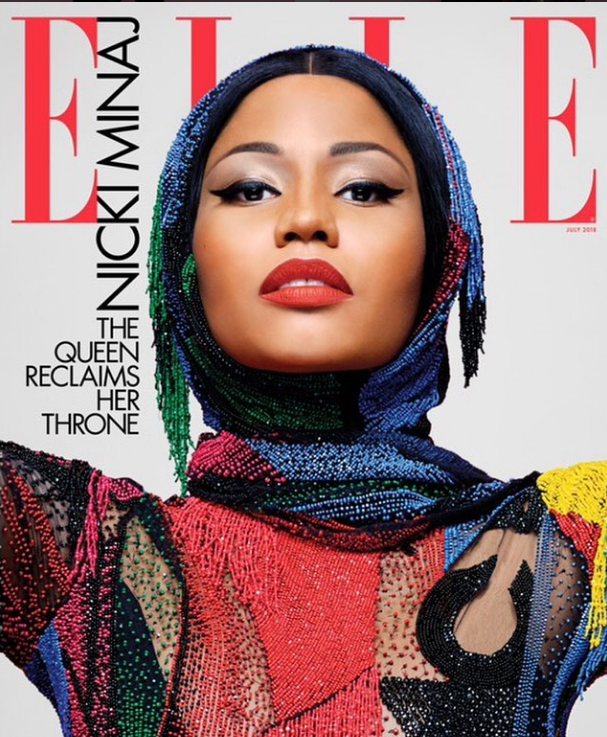 Fans are getting sick of Nicki Minaj's tired tantrums and histrionics because she is no longer the center of gravity in the female hip-hop game and that the genre that seemingly orbited around her has, for the time being, moved to her hated rival.
They accused the "Anaconda" rapper of blatant hypocrisy for exploiting her sex appeal to sell her records her entire career. But now that another female lyricist comes along by the name of Cardi B, fans allege, Minaj suddenly wants women to "close" their legs when she spent years having them propped open for multiple photo opps and videos.
Suddenly Nicki has problems with strippers when she twerked and popped her ballooned booty into millions of men's hearts — and even did a lap dance for fellow Cash Money labelmate Drake in her videos? Minaj now says women shouldn't be "prostitutes" and sell sex for money, yet she sang in one of her songs that women shouldn't go home with a guy unless they "get the bands?"
The tempestuous Trinidadian temptress, born Onika Tanya Maraj, 35, gave an explosive interview with Elle magazine, in which she seemed to slut-shame strippers and prostitutes and demanded that women now "close their legs."
Many believe the Minaj interview is a passive-aggressive swipe at archrival Cardi B, who has hijacked the genre and is a former stripper who came up in the same New York streets as Minaj.
Fans did not take too kindly to the "narcissistic" Minaj, who cannot stand that she has been replaced on the royal throne of hip-hop and has had to give up social media and push her album release date back in order to try to reclaim her queen status.
One fan, BrunoSmash10, told Minaj in Bossip's comments section that she "should be warning girls about pedophiles since her brother is a convicted one."
The Nicki Minaj mauling on social media continues below: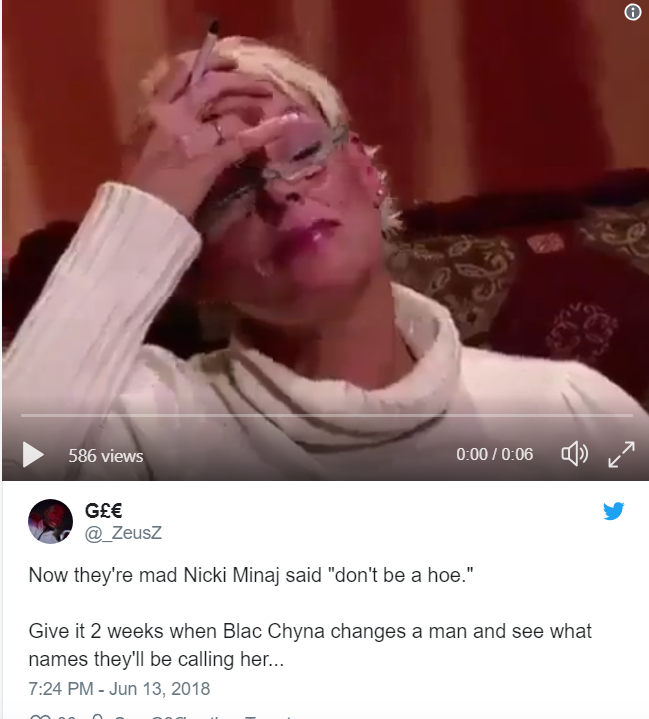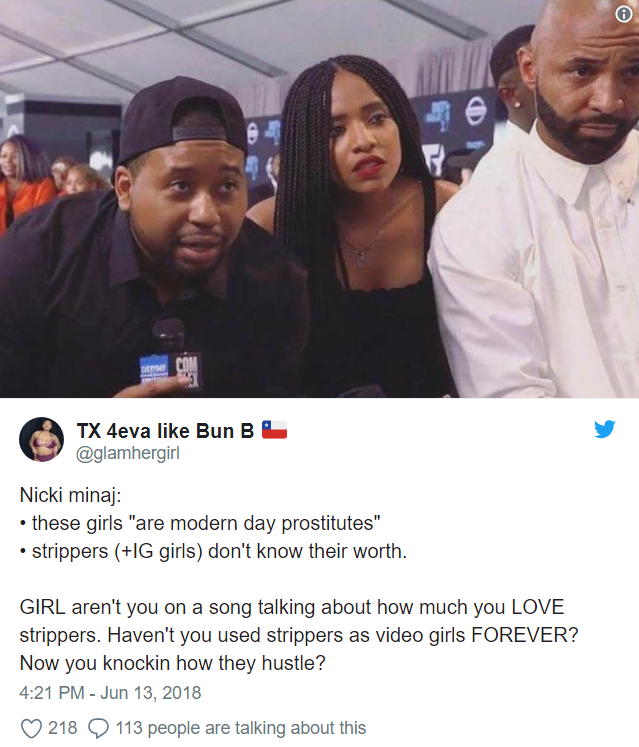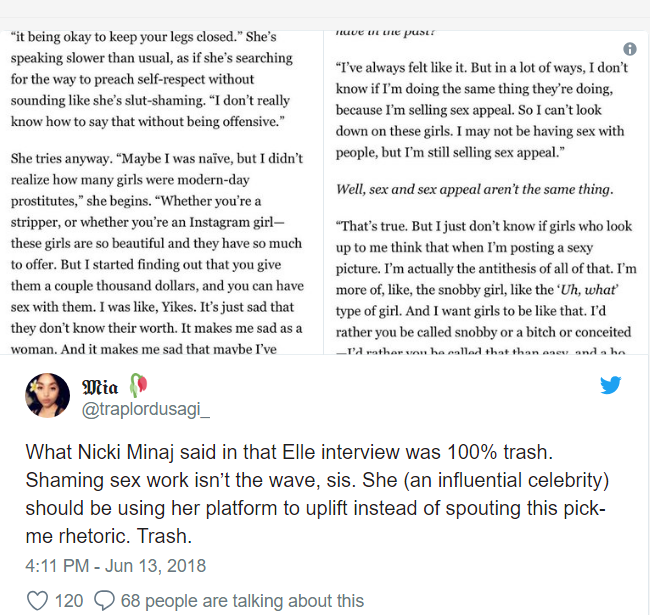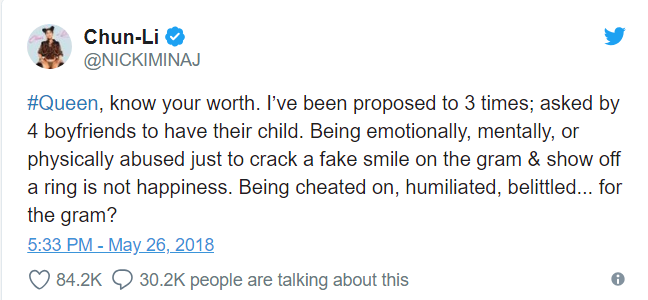 Nicki can't believe that a pregnant former stripper has our attention. Cardi getting the calls by TheWhite to do a female rap verse (Maroon 5 x Girls Like You) was the final straw…

— Eagles got a ring…am I next @God?? (@SailorKhandi) June 13, 2018
What Nicki Minaj said in that Elle interview was 100% trash. Shaming sex work isn't the wave, sis. She (an influential celebrity) should be using her platform to uplift instead of spouting this pick-me rhetoric. Trash. pic.twitter.com/fD4U39V5uI

— 𝔐𝔦𝔞 🥀 (@traplordusagi_) June 13, 2018
Nicki rapped about eating p—–, threesomes, big d—– her whole career. But, now that an ex-stripper done came and swept her ass up, all the IG models are prostitute's and women shouldnt have sex for money?

Ok, girl.

— K (@KadijahChloee) June 13, 2018
Cardi B made Nicki change up her whole stance on sex appeal & Selling sex. Now we finna get Yolanda Adams music from her.🤢

— The Writer Bee (@BiancaXaviera_) June 13, 2018
Nicki basically said she's been perpetrating a lifestyle she doesn't believe in her entire career and NOW, she's disgusted by the same thing she was promoting.

That shit would be funny if it wasn't so crazy.

— Shyne Coldchain Jr. (@Smooth_Orator) June 14, 2018
I find Nicki's comments…really hilarious given her own history. N—-, you released Anaconda and you criticizing strippers and IG models?

— Anti-Hero (@AltThesis) June 13, 2018
Nicki is a narcissist who cannot take when anyone else is shining. It irks her. She's made that clear time and time again. There's no need to defend that.

— Ms. O (@Fabulousity201) June 13, 2018
Nicki told Elle she didn't realize how many girls "were modern day prostitutes," & "you give them a couple thousand dollars & you can have sex with them." Meanwhile her new single Rich Sex in stores now in which she raps "don't let homie f— unless his bands up." uhh…okay.

— Greg Cally (@Cally214) June 13, 2018
It's pretty f—-ed up for famous women to use sex worker aesthetics and sex positive talking points to sell their image and defend themselves only to turn around and reinforce that sex work is wrong and women need their sexuality policed. Sorry Nicki's interview is gross

— Danie Durst (@daniecal) June 13, 2018