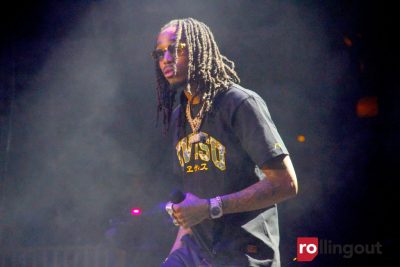 Migos member Offset is denying that he got into a physical altercation with estranged bandmate and blood relative Quavo. However, backstage footage capturing Cardi B yelling does indicate that something popped off between her husband Offset and his cousin Quavo.
"Entertainment Tonight" captured the audio of Cardi B yelling at someone, which the television show surmised was between the two men. Multiple media reports stated that Quavo stiff-armed Offset who wanted to join him onstage during the "In Memoriam" segment of the Grammys to pay homage to their relative and rapper Takeoff.
As most pop culture observers are aware by now, Takeoff was shot and killed in downtown Houston on Nov. 1, 2022, after an argument popped off between Quavo and members of J. Prince's crew following a dice game.
Offset's relationship with Quavo and Takeoff had already been strained prior to the shooting. Quavo composed a solo tribute to Takeoff, "Without You" which was released in January 2023, and Quavo did not want Offset to have any part of performing the song with him.
"TMZ" and other outlets claimed the two men who were raised in the same house exchanged blows backstage at the Grammys on Sunday, Feb. 5, 2023. The audio that "ET" managed to record of Cardi B yelling at someone substantiates that some commotion of sorts did go down, despite Offset's denials.
"Both of y'all wrong. Both of y'all! This is not right," Cardi can be heard yelling at someone in the clip. No video accompanied the words. 
"No, b—-es, shut the f— up, 'cause you shouldn't have been talking."
Listen to the full report below: