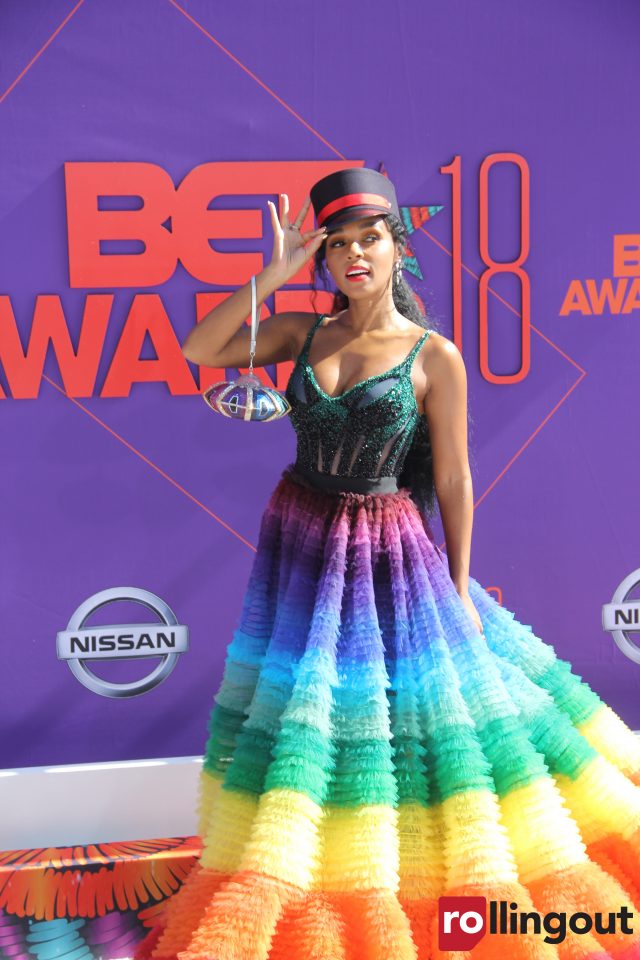 Actress and singer Janelle Monae always makes grand fashion statements, but she usually plays it safe, staying in her signature contrasting black-and-white comfort zone.
However, this year on the 2018 BET red carpet, Monae made a statement with a rainbow-colored gown in support of the LGBTQ community. The Covergirl hit the carpet in a dark green, glittering bustier that transitioned into a full, floor-length skirt featuring a multitude of colors. She topped off the look sporting a blacked peaked cap with a red band across the front. Each year, LGBT Pride Month is celebrated in June.
This is a fitting way to celebrate as Monae recently came out as "pansexual" in a Rolling Stone cover story. After initially identifying as a bisexual, she said she did some research on pansexuality and concluded,  " 'Oh, these are things that I identify with too.' I'm open to learning more about who I am."
Monae's statement outfit follows the rainbow flag cape award-winning Master of None writer and star Lena Waithe donned at the 2018 Met Gala. Waithe said, "It was all about repping for the community that I'm a part of."
Whether it's Monae or Waithe, both of these women are using their platforms to make a statement and evoke acceptance and inclusion.