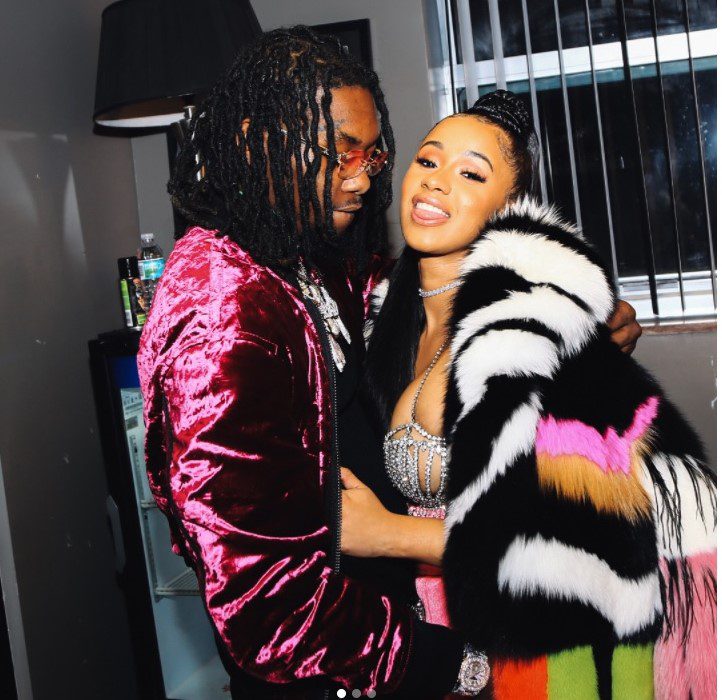 Martin Luther King Jr. had many dreams during his historic and groundbreaking life, which fundamentally transformed America. But his dream surely did not include someone using of his personal shortcomings to justify someone else's serial infidelity.
That was precisely the case with the meteorically rising rap raven Cardi B. Some people believe that Cardi B has gone off the deep end completely with her social media postings defending her husband and group member Offset. 
Now that the world is aware that Cardi B, 26, and Offset, 28, were secretly married last September, some speculate that he cheated on her while they were married.
The "Bodak Yellow" rapper appeared to be stung deeply by such comments, and she has been steadily clapping back on Instagram.
But it is the way that she chooses to defend Offset that has folks doing double-takes. In one post, Cardi B said cultural icons the likes of MLK, Kobe Bryant and Jay-Z also cheated on their wives, and therefore people should not be so quick to judge her situation with Offset, who was captured on film with other women.
Twitter, of course, dragged Cardi B for her reference to the legendary civil rights leader. Here is a small sampling of Black Twitter's blistering blow-black to Cardi B's reference to the venerated King: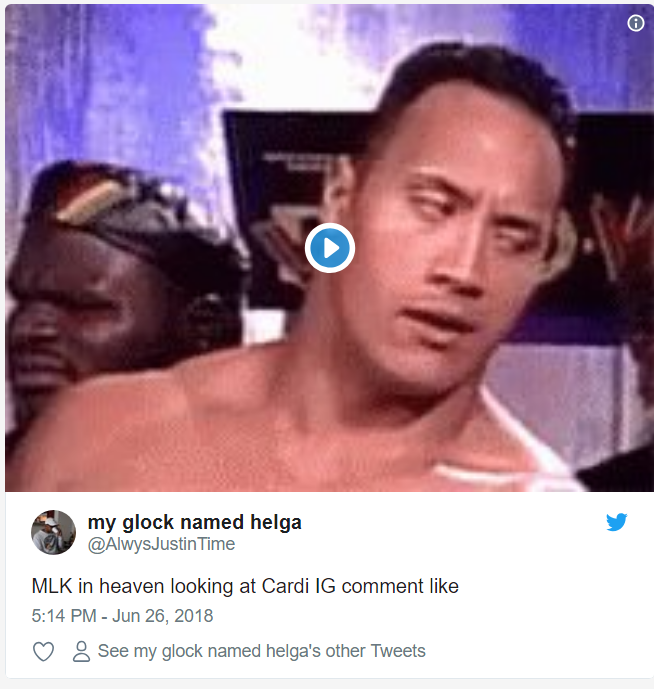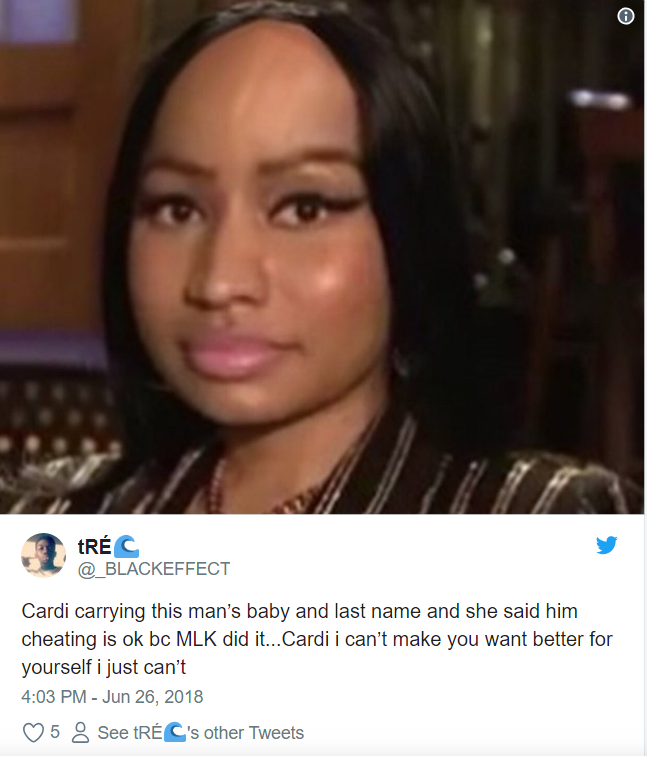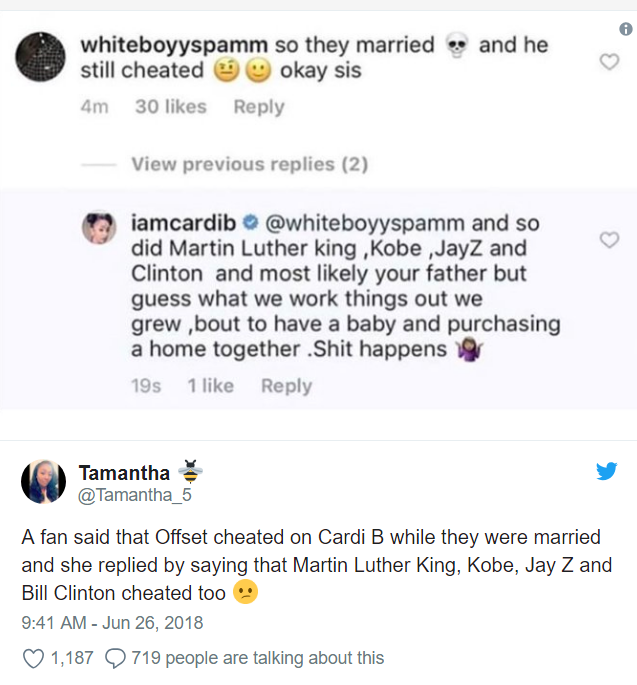 "Cardi B justified being cheated on while married because MLK jr did it.

Ok. We get it's a true statement but don't speak on him as voice of reason in that context. That is honestly the cheapest reasoning ever."

— jiffy. (@bthereina_JIFFY) June 26, 2018
"Yonce also has more self respect than to reply to every other ig comment comparing her husband to MLK because they both cheated. Cardi is dragging herself through every single mud puddle to defend Offset and its….something."

— cookie monstrous (@kissmyfatsass) June 26, 2018
"Wait wait Cardi B said it's okay Offset cheats on her while they're married because Kobe MLK and Jay-Z did? Lmaoooo this y'all queen? 🤦🏾‍♂️😭😂"

— Lefty (@Nick_AleChoosey) June 26, 2018
"Why does Cardi continue to respond to ppl and explain her actions??? Now she on IG comparing Offset cheating to MLK like what?! Lmaoo she sounds ridiculous 🤦🏻‍♀️"

— samantha the supreme ✨ (@justasks5am) June 26, 2018
"Cardi B really compared Offset to MLK, Clinton and Kobe… man anytime they are ready to pull the plug on this simulation I'm ready"

— Kels (@BuzzCityKels) June 26, 2018