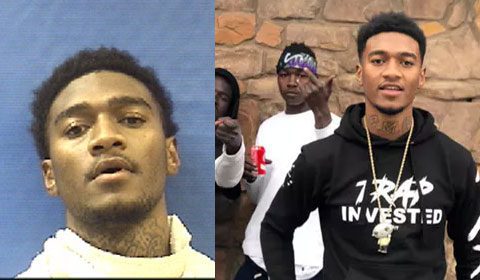 It is often said by rappers that they rap about the life they live. This formula can lead to success for some, for others like Dallas, Texas, rapper NaNa, real name Nykees Earl Campbell, 20, it has led to years behind bars for himself and fellow YNB stretch gang members. According to a  statement released by the US Attorney's Office for the Northern District of Texas, Campbell was one of 14 arrested on a wide range of federal charges, including drug and firearms offenses in November 2017.
As part of an ongoing beef back in 2016, Campbell and other gang members grew in popularity over their violent activity. The group of young Black men decided that rapping about their crimes that included drive-by shootings, cold-blooded murders, and other bloody deeds would make great material for rap videos. Soon, the entire gang was posting Facebook and YouTube videos, flashing guns, piles of cash and making mad rhymes about unsolved murders. Some of these videos included the crime scene as the backdrop.
Campbell and the YNB gang became such popular social media stars and rappers they were asked to perform at the popular South by Southwest Festival. That was until the festival organizers were informed by police about NaNa and his alleged gang activity.
According to the Dallas Morning News, when police arrested Campbell and other gang members over a series of violent shootings back in November 2017, crimes in that area of Dallas immediately dropped. Investigators then connected rap lyrics spoken by Campbell to area shootings, including one that involved shooting a man eight times while he lay sleeping in bed. This past February, Campbell, who had no prior record, reached a deal with prosecutors and pleaded guilty to distributing cocaine, as it became apparent he was going to do six years. While behind bars, many of his associates also began making deals.
On Wednesday, U.S. District Judge Barbara Lynn sentenced a remorseful Campbell to 12 years in federal prison on the drug charges. Judge Lynn granted a request for "an enhanced prison term" because of alleged gang activities. To bolster their argument to the judge, prosecutors played Campbell's own bragging rap video during the sentencing hearing.
Part of the evidence included a video of Campbell and other gang members outside of a shooting victim's home, bragging about how they just made it a haunted house. During her final statements, Judge Lynn said, "I'm not punishing you for making rap videos," but his words gave her an idea of his mindset and she called him a dangerous criminal. The judge stated his words were  "chilling" and that "You're bragging about shooting a person…"
As he stood before the judge to hear his fate, Campbell stated he was sorry for his mistakes and wants to be "a better man." and "I was really just caught up in that… I'm not saying it's right."