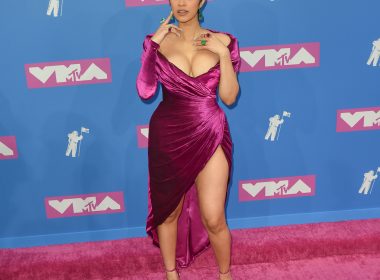 "Bodak Yellow" hitmaker Cardi B has asked her fans on Twitter to come up with the perfect position on her body to honor her little girl Kulture, whom she gave birth to seven weeks ago after her husband Offset got her moniker etched on his face.
She tweeted: "Where should I get Kulture name tatted? (sic)"
One fan then suggested her arm, to which she replied: "Both arms are taken."
The 25-year-old rapper's decision to get her baby permanently carved into her flesh comes just hours after the Migos star uploaded a video of himself getting "Kulture" penned onto his cheek at the tattoo parlor. The 26-year-old rapper then panned to the rest of his face to prove that he hasn't just got Kulture tattooed on him; his three other kids — Jordan, Kody and Kalea, whom he has from previous relationships — are on his body, too. He wrote: "All kids tatted. Don't play wit me. (sic)"
Meanwhile, Cardi and Offset, who were married in secret last year, have high hopes for their little girl as they've already trademarked her name. The couple has reportedly filed documents to register her name for the "merchandising of shirts, sweaters, jackets, pants, skirts and footwear."
And, in case the youngster wants to follow in her parents' footsteps, the pair have secured her the rights to use her name for all "musical recordings, motion pictures, entertainment marketing services, promotion for recording and performing artists, as well as for "online video games and dance events."
The request was filed under Sallie Smith LLC, a company registered to Offset, but Cardi no doubt also had a huge say in whether it happened.