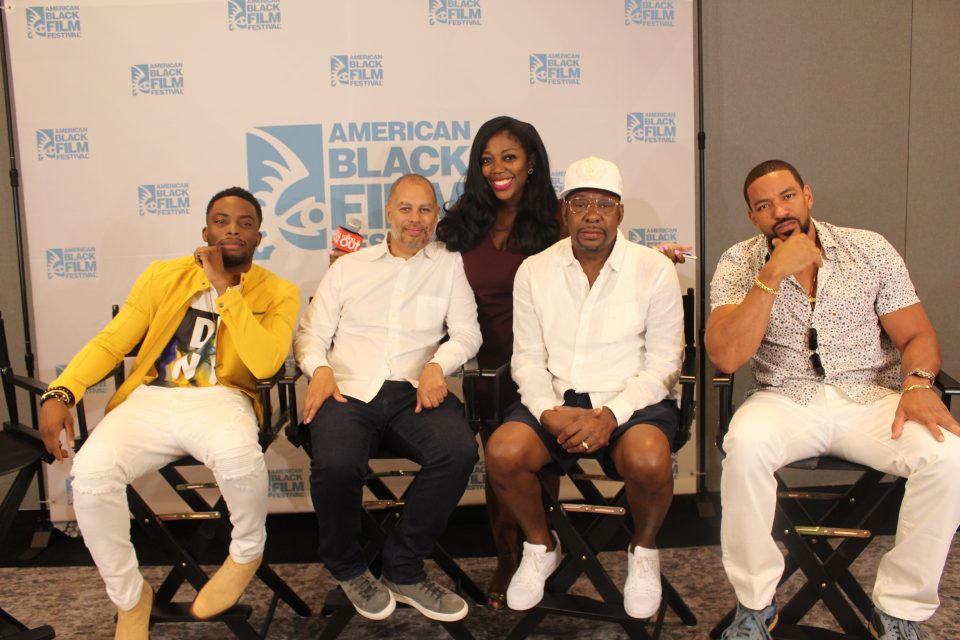 The Bobby Brown Story is a "story that had to be told" and will undoubtedly go down in history as one of the most shocking, controversial BET biopics to date. There were several unbelievable moments in the docu-series that left viewers shocked. But shocking moments aren't unusual for the "King of R&B." Just take a page from his 2016  best-seller, Every Little Step, where he confesses to dating Madonna (yes, that Madonna) and kicking out a naked Janet Jackson (yes, that Janet Jackson) from a hotel room.
Or, take a look at "The New Edition Story" that aired on BET in 2017, where Brown was clearly the most vocal, rebellious and most uncontrollable member of the group. He was eventually expelled from the group, arrested multiple times and entangled in all sorts of "bad boy" antics.
We caught up with the cast of the :Bobby Brown Story" during the American Black Film Festival to discuss, perhaps, one of the most talked about docu-series this year. Woody McClain portrays Bobby Brown, and Laz Alonso  is cast as Louil Silas Jr, the MCA producer-executive who helped to make Bobby a solo artist. Producer Jesse Collins and the man himself, Bobby Brown, all sat down with rolling out to talk about exclusive tidbits on BET's biopic of the year.
During our discussion, Brown talked about reliving some of the dark moments in his life during the filming of his story. The notorious "bad boy" also shared insights on fatherhood and what it means to him, acknowledging along the way his seven children.
The entire video interview is posted below. Be sure to catch Brown's impressive interview entrance (3:36) midway through the cast interview — in classic Bobby Brown style.
How did you cope with reliving some of those dark moments in your past during filming?
I didn't. Some of the times that they were shooting things, I just didn't show up. I couldn't relive it [while] watching it. But on paper, I could read it, and feel crazy about it, but when they were shooting, I just couldn't be there.
Why was it so important for you to tell your story now?
That's an amazing question. I think the right time is the right time. I think when it's time for you to tell your story when it's time for you to give your life to everybody, it's important to do it while you're alive, you know? That's why I wrote my book Every Little Step, and that's why me and Jesse got together and we did this film. You can't be gone and tell your story. You gotta be here so that you can see your story and know your future.  And now, I know my future, so I'm grateful.
Let's move it to a lighter note. What does fatherhood mean to you?
All right, yeah, I have seven kids, and [fatherhood] means everything to me because my Father's Day for my father was always the most special day because my father was a "G."  He was the working man, he worked 14 hours a day, but then he would come home and get "g-d" up, and he would go out. So, my father was a father, you know? So, [fatherhood] means to me that as long as you take care of your children, as long as you take care of your family, nothing else matters.  You gotta think about that. What else matters than a father being a father? A father. You gotta think about that. And I always do. So, I try to be a father in my life.