What Monica, H.E.R., 2 Chainz and other celebrities wore at ONE Musicfest
Music festival season is here and this past weekend, ONE Musicfest was the place to be in Atlanta.
While the festival is primarily about the music, the audience was also filled with fashion-forward people of varying tastes and styles.
While we loved the street style embraced by many in the crowd, it was even more exciting to see what the celebrities were wearing when they hit the stage during the two-day festival. Here's what your favorite celebrities from Monica to T.I. wore as they shut down this year's ONE Musicfest.
Monica hit the stage wearing black jean shorts, a black bodysuit and a black-and-white kimono dotted with skulls. She accessorized with über cool black shades.
Kelis came to ONE Musicfest stage rocking a coral-colored halter jumpsuit, accessorized with big gold statement necklaces and chunky hoop earrings.
In true rock-star fashion, Miguel wore lime green pants and a sporty leather biker jacket. The jacket was embellished with cool patches and paintings.
The mysterious H.E.R. showed off her face and casual style during her ONE Musicfest set, sporting a hockey-style Champion jersey with white, blue and red color blocks and blue sweatpants.
Rapsody performed in a black-and-white hooded Puma jersey dress, with knee-high black socks and white sneakers.
The soulful female duo known as St. Beauty always make a fashion statement. The pair wore coordinating outfits in black and white, with mock turtleneck crop tops and high-waisted, full-length pants — one with a print and the other with fringe accents running down the side of each leg.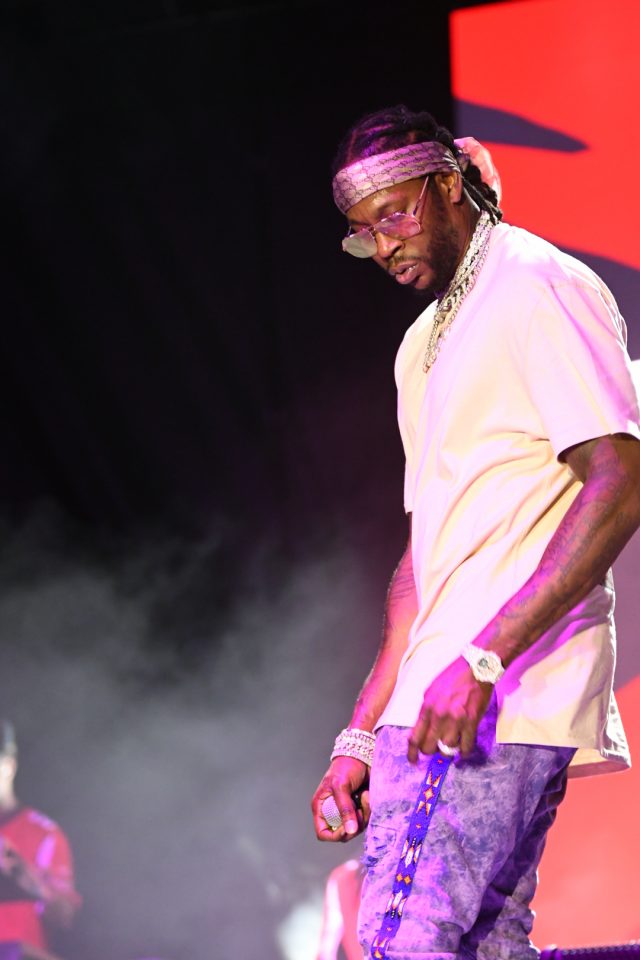 2 Chainz performed at ONE Musicfest on Sunday, Sept. 9, 2018. (Photo credit: Norman Johnson for Steed Media)2 Chainz hit the stage in a pink graphic T-shirt and acid-wash jeans. He was iced out with a neck dripping in diamond-encrusted chains. He also flaunted his signature Gucci silk scarf tied around his head.