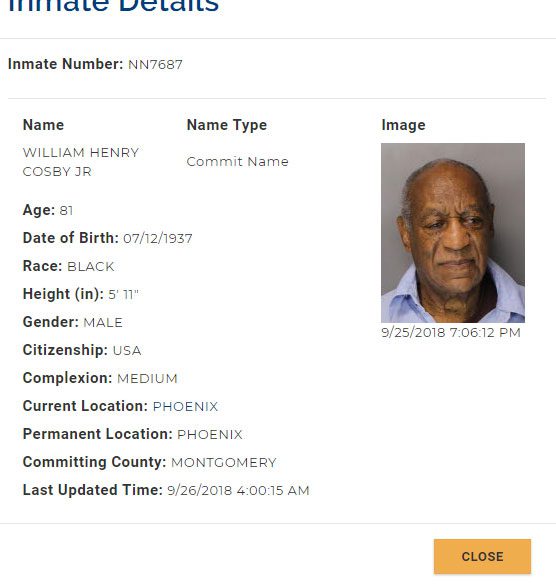 With Bill Cosby now behind bars, he becomes part of the growing population of 10,800 Pennsylvania state inmates who are over the age of 50 and the 87 prisoners who are older than 80.
Part of that is due to the effects of mass incarceration and the get-tough-on-crime agenda of the 1990s that resulted in the three-strikes-and-you're-out law in many states, according to research by the Pew Charitable Trust.
Linda Redford, the director of aging and geriatrics programs at the University of Kansas Medical Center, who studies health issues related to aging prisoners, agrees. As a result of the push for mandatory sentences and three strikes laws,  "we're seeing people who came to prison in their 30s and 40s and 50s [who are] in their 50s and 60s and 70s today," she said.
The life as an elderly inmate is not an easy one. In fact, elderly inmates comprise the largest expenditure of funds by the prison system, costing as much as $68,000 per year as illnesses associated with aging kick in.
According to researchers, prison can knock off as much as five years of a person's life expectancy. The could be a dire situation for Cosby, who is 81 and will have to deal with the harsh realities of prison life as well as his known medical conditions.
As reported previously by rolling out, Cosby is suffering from keratoconus, a degenerative eye disease, and has been slowly losing his vision for the past few years. In addition, family members say he may have the onset of dementia and need assistance in walking.
Whether a person believes he should be incarcerated for his crimes or not, Cosby is fortunate to be incarcerated at SCI Phoenix, a maximum-security facility that was opened this year and can house 3,830 inmates.
Rolling out spoke with Amy Worden, a spokesperson for the Pennsylvania Department of Corrections, about what life is like at SCI Phoenix and what the elder Cosby can expect while doing time as a prisoner there.
Considering the age of Cosby and other prisoners in the system, what is medical treatment like for the elderly?
SCI Phoenix is on the forefront of prisoner care. The facility offers a hospice, and inmates can receive dialysis, chemotherapy and other services related to age and illness.
Will Cosby, who has a Ph.D. in education, be required to participate in prison jobs?
No. Prisoner work details are strictly voluntary, although encouraged. It is a little early to determine if Dr. Cosby is able to make such a contribution during his sentence. However, prison jobs are much more than manual labor, and there are other opportunities to contribute.
 Can you explain some of those opportunities?
Yes. In Pennsylvania, a life sentence means a life sentence. But we have some prisoners who act as "peer specialists" and work with other prisoners, in essence, offering a village elder support system. A person with Dr. Cosby's educational experience and background could be an asset in such a program if he chooses or is able to participate.
Where is Cosby housed currently at SCI Phoenix?
William Cosby, inmate NN7687, is currently housed in a single cell next to the prison infirmary. It is too early to tell what his final disposition will entail. There are a series of court-ordered and institutional diagnostic tests that must be completed to determine where in the prison population he will be placed.
Are all elderly sick prisoners doomed to die behind bars?
Not necessarily. The Pennsylvania Department of Corrections has a medical "compassionate release program" in place. Each prisoner is dealt with on an individual basis, and their health and potential for recidivism are taken into account.
The media outlet Radar Online reported that an inmate threw a hot dog bun at him. Did that happen?
While somewhat amusing, I find such a story to be highly improbable because Cosby has not had much interaction with inmates.