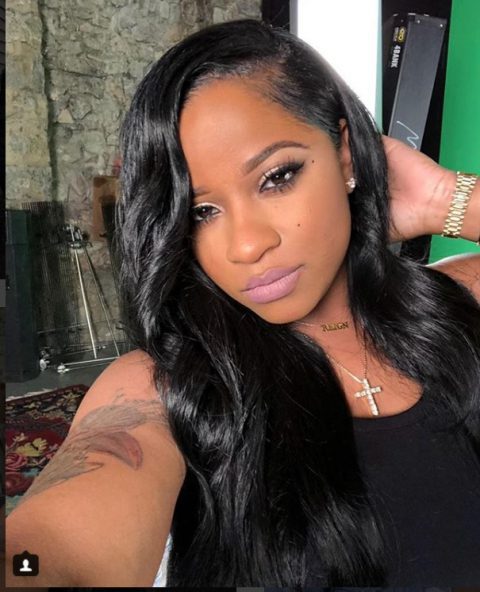 Reality TV star Toya Wright reportedly told her eldest child, Reginae Carter, that she does not like the fact that she is dating YFN Lucci for several reasons. In fact, Wright would rather Carter detour around rappers altogether if she's considering romance and a potential life mate.
On a teaser of an upcoming episode of "T.I. & Tiny: Friends and Family Hustle," the author and entrepreneurial mother says she strongly disapproves of the age gap between her daughter, who will turn 20 on Nov. 29, and Lucci, who is 27.
"I don't like the age difference," Wright said bluntly to Carter. "I don't like the fact that he have four kids because, I mean, you trying to be stepmom, honey?"
Carter and Lucci also are notorious for displaying their romance on social media. In one particular case, Lucci lifts up Carter's dress to smack her bare backside, which displeased some of her fans.
https://www.youtube.com/watch?v=UAJJANlCJP4
Wright expressed other concerns about Carter's and Lucci's relationship on the new show.
Wright tried to elucidate the perils of dating a man in the industry and warned her daughter about the lifestyle that comes along with it.
"You know how I feel about that whole rapper thing," she added. "I dated your dad when I was younger than that, and there's a whole lot that comes with that lifestyle. And that's the last thing I want or any mother want."
Carter wasn't trying to hear mother's admonishments, though, and even dismissed her mother Wright as "boring."
Wright reminded her daughter that she was just 15 years old when she became pregnant with her by Lil Wayne. He was only 16 at the time. Despite being adolescents, the two married on Valentine's Day 2004 but then divorced in January 2006. Both parents claimed the lifestyle associated with the music business caused the implosion of their marriage.
The mother and daughter then proceeded to argue, with Wright imploring Carter to stay away from Lucci's business dealings that could negatively impact her image.
In spite of her mother's words of caution, Carter is hooked on Lucci and has already publicly professed her love for him. She told her mother, "I really like him. He's sweet and livin' life. Livin' our best life."
The reboot of the original reality show "T.I & Tiny: The Family Hustle" will also illuminate the personal and professional lives of Tiny's close friends, including singer Monica and her husband and former NBA star Shannon Brown, as well as singer LeToya Luckett and her husband and businessman Tommicus Walker.
"T.I. & Tiny: Friends and Family Hustle" premieres Monday, Oct. 22, at 9 p.m. ET/PT.