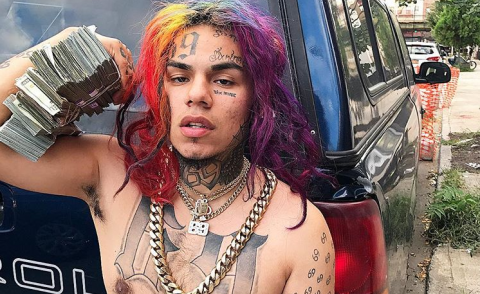 Now that embattled rap star Tekashi 6ix9ine has gotten arrested on an assortment of federal charges, he is trying to backtrack from portraying the way of life that put him on both pop culture and law enforcement radars. According to rolling out's previous report, Tekashi is now saying he faked the street life to sell records.
If that wasn't enough, Tekashi may be cooperating with federal prosecutors as he faces decades in prison if convicted on all the charges.
6ix9ine was transferred from the Brooklyn Metropolitan Correctional Facility in New York to a unnamed federal facility, the media has learned. Under normal circumstances, no one would be surprised because many celebrity detainees are often separated from general population or sent to safer jails for security reasons.
But 6ix9ine has been reportedly transferred to a detention center known to house federal witnesses. And these are the type of witnesses, TMZ strongly insinuates, who are about to strike a deal with the feds, or already have.
Tekashi 6ix9ine, who was born Daniel Hernandez and also goes by the stage names of 69 and Tekashi 69, was arrested Sunday night in New York. The U.S. Department of Justice accuses Tekashi of a rash of felonies, including racketeering, conspiring to commit armed robberies, drug dealing and actual shootings after a years-long investigation by the Bureau of Alcohol, Tobacco, Firearms and Explosives (ATF).
To be sure, Tekashi, 22, is concerned about his safety. He was transferred on Wednesday by U.S. Marshals after he asked to be placed in a unit away from the infamous street gangs, the Crips and the Bloods.
Lance Lazzaro, the attorney who is representing 6ix9ine in the case, refused to answer TMZ on whether his client is preparing or has cut a deal with the Justice Department in return for valuable information related to his case. Lazzaro would only intimate that Tekashi was being threatened by gang members at the Brooklyn prison.
Tekashi was in general population in the Brooklyn facility that included gang members, but he is now in a "neutral" place that is absent of such hazards, TMZ stated.