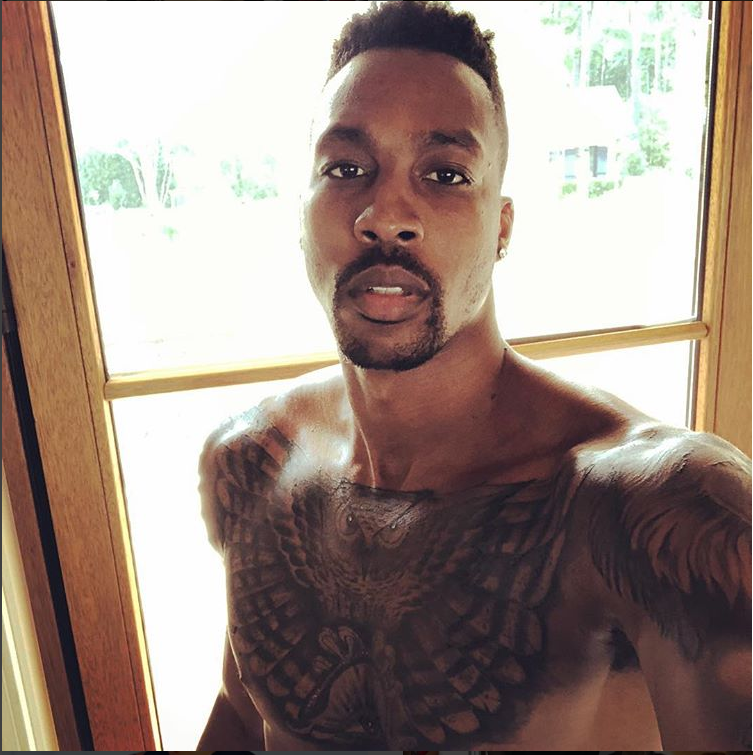 NBA star Dwight Howard could not have possibly fathomed how two seemingly unrelated occurrences last week could have collided so horribly for the Washington Wizards center.
First off, Howard, 32, has been accused of being in a secret sexual relationship with a transsexual by the name of Masin Elijé.
Secondly, and just as damaging to his public persona, is the fact that Howard has not been playing lately due to a reported injury to his gluteal muscles, meaning his butt. The timing of this injury and the alleged transsexual jump-off could not have been worse and has resulted in tons of suggestive (and some homophobic) jokes and memes. Howard has been getting destroyed on social media the past few days as a result of the brewing scandal.
Elijé recently accused Howard of being unfaithful with other transsexuals and regularly attending transsexual parties where he allegedly had unprotected sex.
Elijé said she and Howard met on the set of Nick Cannon's "Wild-N-Out" and that there was an immediate attraction. Afterwards, they allegedly started communicating on Howard's "finsta," a Fake Instagram account created to ensure their relationship remained a secret. Elijé said in the tweets that their romance "escalated quickly" and they exchanged nude pictures. She also said Howard was very aggressive in pursuing him, talking to Elijé every night on Instagram chat.
According to Elijé, the relationship ended when it was revealed that Howard was allegedly cheating on Elijé. "I thought my good sis was a prostitute but as my friend took a deeper look into her page, she actually host TRANSGENDER SEX PARTIES that Dwight Howard (allegedly) often attends, so YES, I lost every bit of my mind," Elijé tweeted.
In a Twitter tirade, the self-disclosed transsexual claimed that she was threatened and even catfished by Howard's pastor because she refused to sign a nondisclosure agreement about the supposed romantic relationship with Howard.
Elijé said she has received calls from multiple numbers claiming to be Howard since the pair split, including calls from as far away as Russia.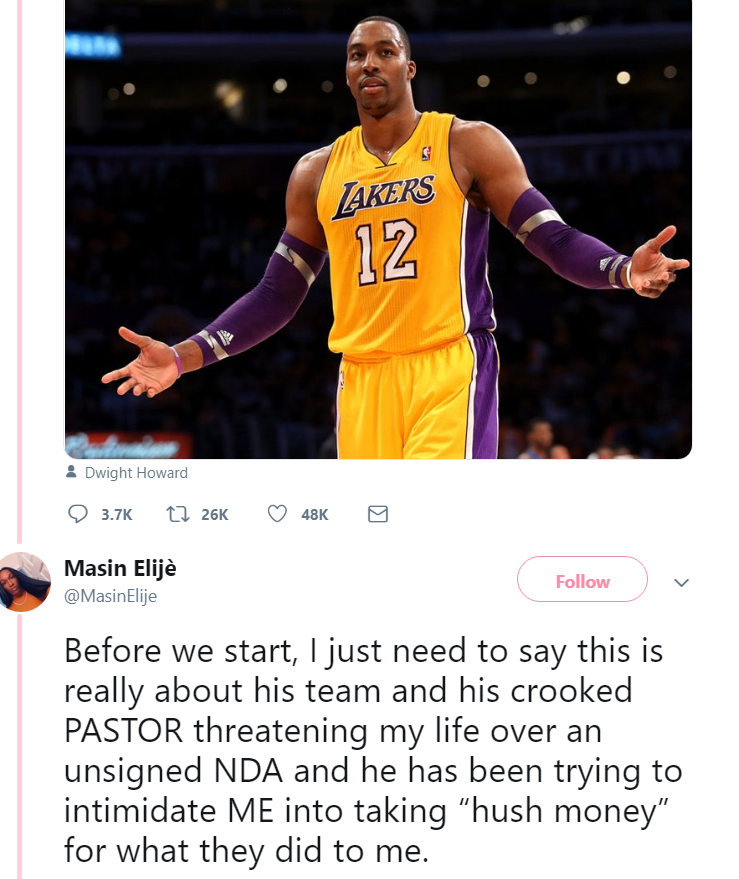 Howard, who remains out with the buttocks injury, has not responded to the explosive accusations publicly nor on social media. Howard has not been active on Twitter since July.
Elijé's Twitter thread has been shared over 24K times on Twitter and the transsexual boasts over 36.7K followers on Twitter and 50K on Instagram.
Another Twitter user has since come out and alleges Elijé had formerly tried to fake direct messages involving Playboo Carti in 2017, according to Clutch Points. The inference is clear: Elijé could be lying about his relationship with Howard.
Elijé is the owner of a hair company called Mazani Mink. She is also an author who put out the book Industry Hoe, a fictional novel about a woman who comes of age in the entertainment industry and leaves her lover behind.
Unfortunately, this is not where the maelstrom ends. One of Howard's several baby mamas, former reality star Royce Reed, is entangled in this scandal because they have a child together.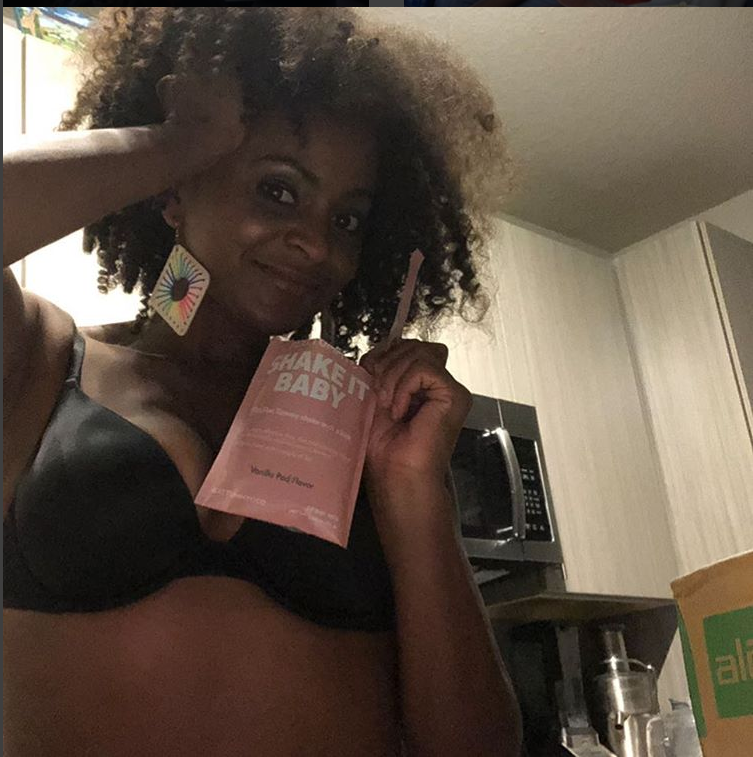 Reed, a former star on "Basketball Wives," preempted the tidal wave of comments and questions coming her way by going onto Instagram when the scandal broke. She posted the following meme and is figuratively sitting back and taking it all in: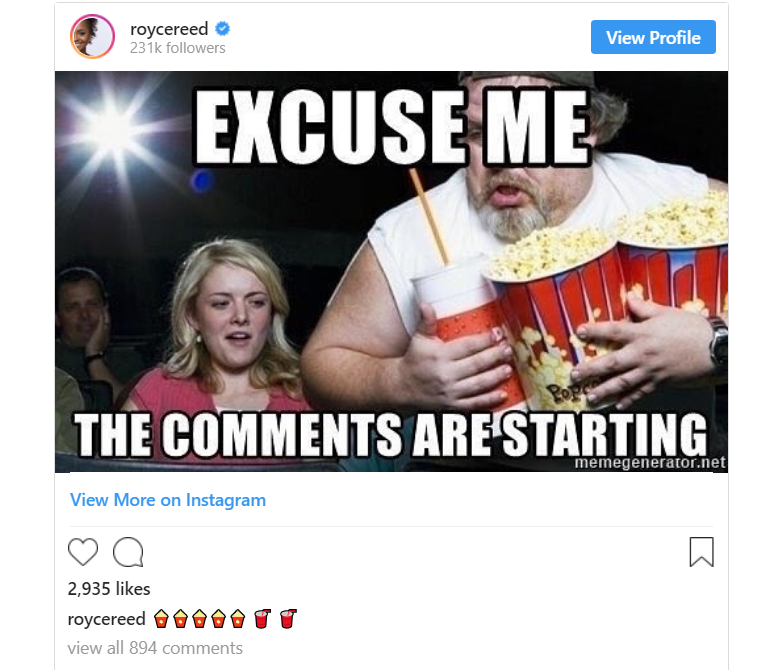 Reed famously broke up with Howard shortly after their son was born. The son, Braylon, is now 11. Howard later sued Reed for defamation and Reed would later accuse Howard of abusing their son.