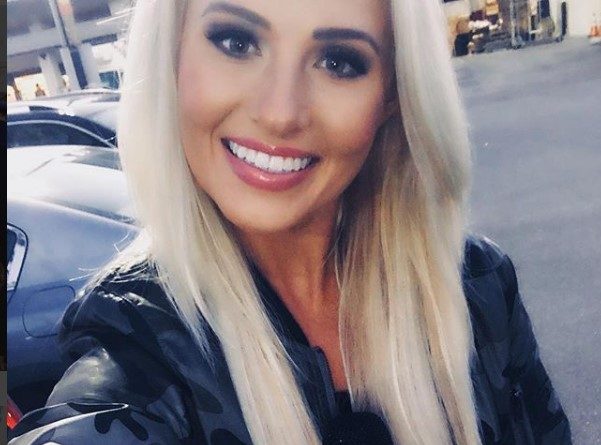 Rap renegade Cardi B issued a stern warning that Fox News commentator Tomi Lahren not come for Cardi unless she sends for her. Lahren ripped the rapper after Cardi shared her indignation and fear at the government shutdown, which is already the longest in U.S. history.
Here is what Cardi B, 26, had to say about the shutdown, which inspired Lahren's shade:
When Lahren got wind of Cardi's scorching smackdown of Donald Trump for his partial government shutdown, Lahren mocked the "Bartier Cardi" emcee:
Looks like @iamcardib is the latest genius political mind to endorse the Democrats. HA! Keep it up, guys! #MAGA2020

— Tomi Lahren (@TomiLahren) January 17, 2019
Cardi, a.k.a. Belcalis Marlenis Almánzar, immediately unloaded on Lahren with a concise warning to fall back:
Leave me alone I will dog walk you . https://t.co/FjqIzpUbvp

— Cardi B (@iamcardib) January 20, 2019
Possibly trying to show that she was not scared, Lahren offered this retort:
I'm sure you would. Still doesn't make your political rambling any less moronic. #BuildthatWall https://t.co/pcFJ6jrgqv

— Tomi Lahren (@TomiLahren) January 20, 2019
This sparring match comes in the aftermath of Cardi B's Saturday Instagram post in which she said the president's supporters should try working without pay during the government shutdown as all non-furloughed federal employees are currently doing.
Last Thursday, Cardi B garnered national headlines when she went off on Trump in an Instagram video that was laced with expletives.
"Now, I know a lot of y'all don't care because y'all don't work for the government or y'all probably don't even have a job, but this s*** is really f***** serious bro, this s*** is crazy," she said. "Our country is in a hellhole right now."
The president ordered the government shutdown to try to convince Congress to grant him the $5B needed to build a wall along the USA-Mexico border.
Cardi B's vicious verbal smackdown of Lahren garnered some hilarious social media responses. Check them out:
Breaking: Live shot of Cardi B and Tomi Lahren. pic.twitter.com/OnvbHyW1Sl

— Christopher Bouzy (@cbouzy) January 20, 2019
— Londo (@londomalco) January 20, 2019
I finally fell asleep and woke up to Cardi B gathering Tomi Lahren? What a time to be alive. pic.twitter.com/2mjgjcKUhg

— Nique (@mo2the) January 20, 2019
https://twitter.com/tailedfoxboy/status/1087001054527410178
https://twitter.com/JennMint/status/1086926542159167488
https://twitter.com/Goodluckbeer/status/1086996869413126144
Live footage of Tomi Lahren trying to figure out her next move against @iamcardib pic.twitter.com/TyE67RjaX1

— SAM6 (@travelong6) January 20, 2019