Beyoncé's 'Beyhive' pounces on Tamera Mowry
The infamous "BeyHive" has just devoured its latest victim: Tamera Mowry-Housley.
The co-host of the popular daytime talk show "The Real" is the object of the BeyHive's wrath — the fanatical discipleship of pop goddess Beyoncé — after bringing up the innocuous encounter she had with the singer's husband, Jay-Z, nearly 20 years ago.
Speaking openly about Hova's "charm," on "The Real," Mowry said she approached the "99 Problems" rapper at Eddie Murphy's blockbuster movie premiere The Nutty Professor in 1996 — long before Jay began courting Bey.
Saucy-tongue co-host Loni Love gave her the side-eye which made Mowry say, "My sister and I were at a premiere of Nutty Professor and he walked by. And I was like, 'Oh, my God, that's Jay-Z!' I was like, 'Can I have some gum?' And he gave me some gum."
While her recollection of that night seems benign, it appears Beyoncé took offense to the picture Love painted when she responded, "It could've been Jay-Z and Tamera?! Wow."
As soon as the BeyHive was alerted, they instinctively swarmed over the talk show's social media page and stampeded all over Mowry on the video.
"smh *sprays a can of raid mist*," one person commented.
"Oh hell's no don't mess with Queen B!" another wrote.
The BeyHive did not take into consideration that Mowry, who may have to fend off their stingers for a while, is happily married to news reporter Adam Housley.
The #BeeHive is DRAGGING #TameraMowry for comments she made about #JayZ 😳😳😳 Head to our IG page to see the video👉🏽 Thoughts on this?!🤔 pic.twitter.com/lO1HukP9fl

— Power 106 (@Power106LA) March 20, 2019
There were, however, plenty of folks in the social media sphere who came to Mowry's defense and clowned the hypersensitive BeyHive in the process.
This is #whore Behavior‼️‼️‼️ #jayz is a married man, how could u be touching on yourself #tameramowry & saying you are attracted to #beyonce HUSBAND ‼️‼️‼️ @tameramowrytwo you are a… https://t.co/AcU7Gz6g2v

— Bang (@TalkYourIshKevi) March 21, 2019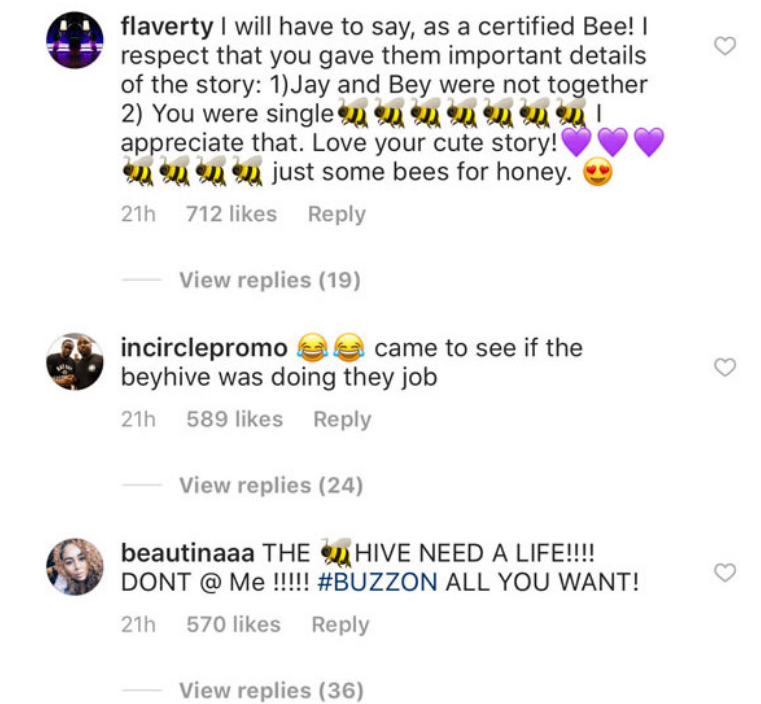 4evermar_77: @tamira7411 why though? It was an innocent story and Beyoncé and Adam wasn't in the picture yet. Sheesh
smfhsugabasket @comiclonilove cause you knew the bee hive was gonna pounce 🤣
4evermar_77: @gailjones1961 she didn't flirt with Jay-Z. He wasn't even with Beyoncé yet and she was just a star-struck kid. It was awkward and funny. Nothing flirtatious about it. I think they're just a bunch of jealous impish demons.
4evermar_77: @nancy_forever98 that's probably why the Beyhive went on attack mode. Loni lowkey instigated the whole thing 😡.