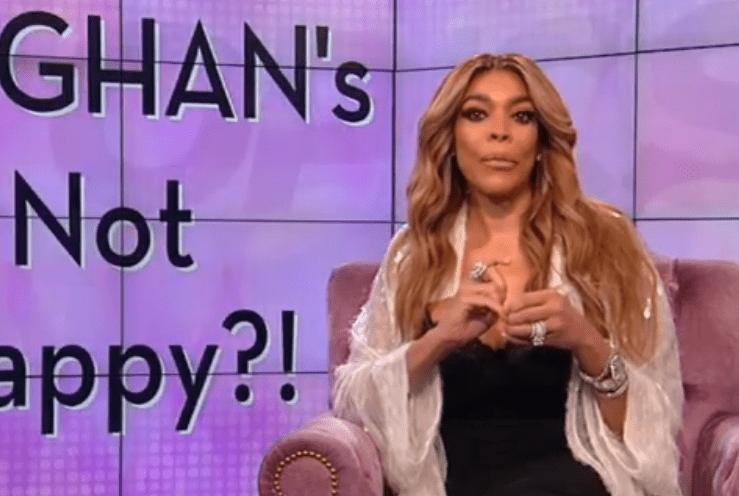 Wendy Williams' wedding ring went missing.
This is interesting because, when Williams returned from her self-imposed two-month moratorium, she emphatically denied rumors about her husband, Kevin Hunter, and his alleged infidelity.
"Believe me you, when you've been with somebody for 28 years … married for 25 years …we know each other. He's my best friend, he's my lover, he's all this and he's all that. I know what you've been seeing and I know what the streets have been talking about. Anybody who's been married for five minutes or 500 years, you know marriages have ebbs and flows. Marriages are not easy. I'm still very much in love with my husband," Williams said on her eponymous show.
"Don't ask me about mine." And then, pointing to her wedding ring, Williams added, "It ain't going anywhere. Not in this lifetime."
But that wedding ring did go somewhere, however, as Page Six and AOL.com reported. When Williams was seen by reporters leaving the sober living facility the other day, that massive rock was conspicuously missing from her ring finger.
It must be noted, however, that Williams did put her ring back on when she left the sober house and appeared to tape her show.
This piece of news comes after blogger Tasha K claimed that Hunter's alleged mistress, Sharina Hudson, reportedly gave birth on Wednesday at a Philly hospital, Page Six states.
Tasha K made a big splash in the national media when she posted a video where she explained that she called the hospital posing as a cousin of Sharina Hudson, Hunter's alleged mistress. The medical facility confirmed that Hudson was there in the maternity unit, the blogger explained.
Moreover, Williams' friend Paul Porter recently told Page Six that Williams needs to dump Hunter in order to maintain her sanity.
"I thought she was going to pass out," Porter said according to the entertainment publication. "I'm worried about her health. Somebody needs to do something."
Porter accuses Hunter, the producer of Williams' show, of casting a pall over the show because he is a "control freak" and "a terror."
Porter claims that Williams thought about divorcing Hunter last year "because of his mistress," Porter said. "They went to counseling. For some reason, she can't break away."