Music mogul Sean "Diddy" Combs said he is ready to marry Kim Porter now but that it is "too late" and this caused an explosion on social media.
A fan caught Diddy during a vulnerable moment online as the record label boss continues to mourn the premature death of the mother of his three children.
The interaction went down like this and was screen-captured by BallerAlert.com before it was deleted: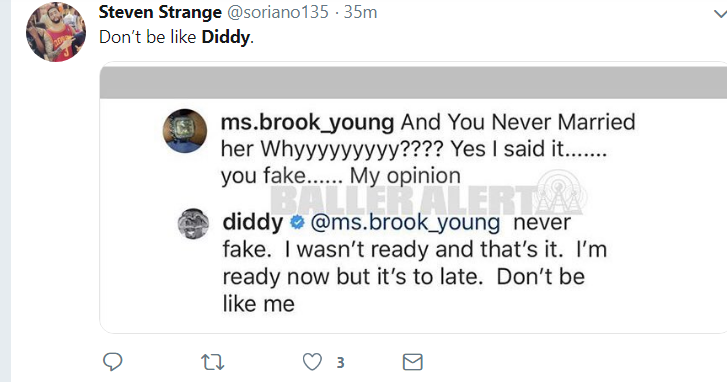 Porter, 47, died suddenly on Nov. 15, 2018, near Los Angeles from complications arising from pneumonia. The mother of four was born in Columbus, Georgia, in 1970 and was buried there in a hero's sendoff.
Twitter degenerated into a tizzy over Diddy's remarks and poured the contents of their thoughts onto the social media platform:
kim in the afterlife hearing diddy pray for her to come back so he can marry her pic.twitter.com/bDEbgM64W7

— ceciATL (@CeciATL) March 30, 2019
I'm so tired of the:
"wHy dIN't YoU mArRy HeR?" comments under Diddy's post every single time he posts Kim..

Maybe she didn't want to marry him.. just maybe there was behaviors that she wasn't willing to accept..

Or better yet..

🗣MAYBE HE WASN'T READY…

— A Pretty Big Deal (@AishiaDeal) March 30, 2019
https://twitter.com/SONGCRYONCE/status/1112015639064006657
Someone reminded #Diddy and wrote: "But you ended up messing with JLo at the time" 😯 … He's still responding to those asking about him not marrying #KimPorter pic.twitter.com/WKjcMctrcG

— OooLaLaBlog.com (@OooLaLaBlog_) March 30, 2019
https://twitter.com/Miiss__T/status/1112015829087019013