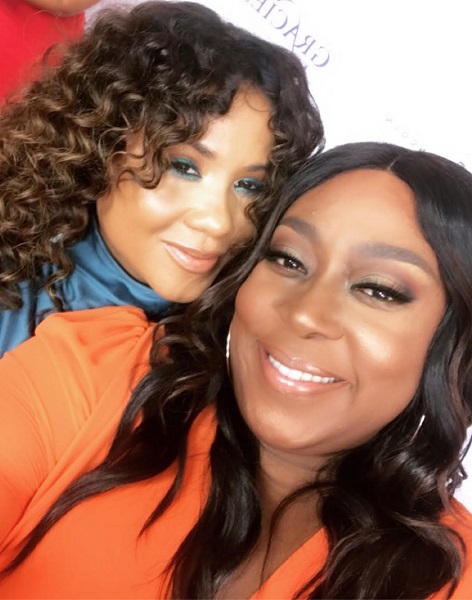 "The Real" co-host Loni Love and "The Breakfast Club" co-host Angela Yee were honored Tuesday night, May 21, 2019, as recipients of the coveted Gracie Awards.
Love copped the award for her radio show "Café Mocha," which boasts being "the only nationally syndicated show dedicated to women of color," according to the show's website.
Yee, also a national radio host award recipient, was recognized for her work on "The Breakfast Club."
It was a proud moment for both women who shared their excitement and gratefulness on the social media platform Instagram.
"Headed to #thegracies to receive my national radio award from @allwomeninmedia. Feeling blessed," said Yee.
Love, who published her post after meeting up with Yee, said, "Grateful to #thegracies for recognizing me and my radio show @cafemocharadio and for hosting the @bethertv Fights Breast Cancer Special!! #humbled."
When Love hit the red carpet in her sheer, orange wrap dress, she told the press, "Being a woman in media means a lot to me because it is about being included and being able to be part of the conversation."
"The Breakfast Club" co-host also stunned when she hit the red carpet in a Zimmerman turquoise dress. Yee shared that radio personality Angela Martinez was a woman in media who she not only admired but who had also inspired her.
"I grew up listening to her and now I get to work with her," said Yee.
The Gracie Awards recognize all forms of content created for and by women in radio, television, cable and interactive media. It is the Alliance for Women in Media Foundation's largest fundraiser of the year.