Angela Yee, is a multi-media powerhouse who is trailblazing her own path in the media industry. She is one third of the New York based national hit morning radio show, Power 105.1 FM The Breakfast Club -along with DJ Envy and Charlamagne tha God, and she also has her hand in several entrepreneurial endeavors. Some of her entrepreneurial ventures include her Juices for Life juice bar in Brooklyn, NY, as well as a new subscription based pressed juice business. She also hosts the weekly podcast Lip Service along with co-hosts Gigi Maguire and Lore'l Torres. She refers to the podcast as her "baby", and they discuss unfiltered and unadulterated content with well-known entertainers.
Yee was recently honored by Jack Daniel's Gentleman Jack during the National Association of Black Journalists (NABJ) conference in Detroit. She was celebrated for being a leading lady in media along with Natasha S. Alford, deputy editor for The Grio. A private dinner was held in both ladies honor and the event was emceed by rolling out publisher and CEO Munson Steed.
Rolling out caught up with Yee during the event and spoke with her about being honored, her perspective on the direction of media. her podcast Lip Service and some of the other projects she's currently working on.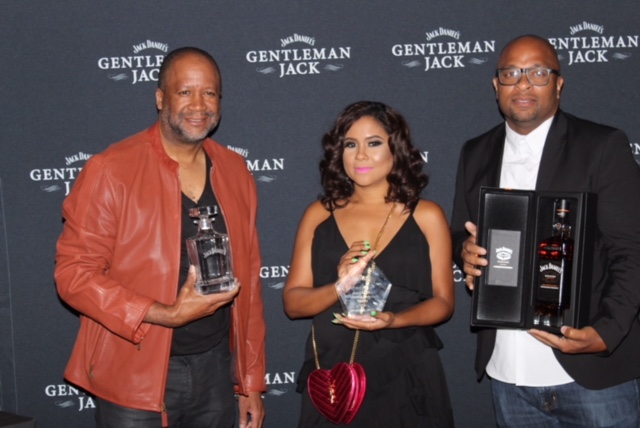 Tell us how it feels to be an honoree.
It feels great. I was really excited to be able to come out. This means a lot to me. To be in a room filled with women and men who support women. There's a lot of people in here that, as I've progressed in my career, they've been there with me also, and I've watched them progress too. So, it's just nice for us to all come together and celebrate.
You're being honored at a great time, during the National Association of Black Journalists (NABJ) conference here in Detroit. As such, tell us where you think the direction of the media is going?
I think everything is so fast paced right now. We're trying to keep up with social media, as far as news and things that are happening. A lot of the time we're able to get first-hand information from people themselves. As you can see, your president is always tweeting things before anybody else knows about it, even the people he works with. It's just very fast paced. There's so much direct access. But the other flip side of that is that there's so much false information out there, so it's really up to us to sift through those things and make sure that we do our due diligence, and our due research and make sure that we double, triple and quadruple check things because there's so much information coming at us it's hard for us to even determine what's real.
You serve as a mentee in a lot of different capacities. Give us some inspirational thoughts on what you would tell one of your mentees who's aspiring to be a journalist like yourself.
I would say that you have to put in the work. There's just no shortcut. No two ways about that part. It's going to be a lot of struggle early on. I know for myself, there wasn't a lot of pay at first, there wasn't a lot of recognition, but the main thing is it's something you can only do if you love it. And if you love it, you'll get out there and do it. Even if you're not getting paid, or getting paid below minimum wage, it's just something that you would do no matter what, regardless of what the money is. So, I think [you shouldn't] worry about money if you're just getting started, worry about experience. That's an investment into your future, and the money will come later on, but you gotta put in the ground work.
That's great advice. Now, everyone knows that you are 1/3 of the nationally syndicated morning radio show with DJ Envy and Charlamagne tha God. But how is it working with two men and you being the only female host on show?
It's very frustrating, but it's funny sometimes too. I think I do a great job of ignoring them when they don't make sense to me and I just tune them out. What people don't understand is that I've been working with them for like eight years now, so a lot of times they say things, and I'm just like "whatever", "shut up". You know, it's just like having brothers that are irritating. But at the same time, I know they do have my back so, it's like family.
You definitely hold your own on the show with those two. And you also have your own podcast show, Lip Service, as well. Tell us more about that.
Well, Lip Service is my baby. I started that a really long time ago and I brought it back as a podcast. The main point of Lip Service is for women to have a space where they feel comfortable to be able to talk about sex, sexuality, relationships, anything that they want to talk about. Nothing is taboo, nobody is judging you on it and it's educational. A lot of women and men listen and learn how to do different things. But for us, I just want people to feel like it's a safe space, be able to ask questions, and be able to talk about experiences. Sometimes we can't even talk to our own friends about certain things, so we're kind of your friends that you can talk to about anything.
Tell us about any other projects you have going on.
Well, I have one project that I've been working on that I'm really, really excited about and I don't want to give it away too much, but I've started filming already. It's about women who are rappers, and that's one of the main things that I'm excited about. I also have another business coming. You guys know we have the [Juices for Life] juice bar in Brooklyn, but I'm about to start a subscription based, pressed juice business, so that's coming up next. That should be launching in a couple of months. And my book club, that's a really big deal for me, and I also have a running club too.
Awesome. Tell us where all of our viewers and readers can find you on social media.
I am on IG @AngelaYee, Twitter @AngelaYee and on FB @TeamYee. My website is TeamYee.TV and of course the Breakfast Club every morning. And the podcast is Lip Service, and you can find that on SoundCloud, Tidal, Apple Music, and Spotify. And I have a State Farm podcast as well, so make sure you check that out: Color Full Lives. [It's] me with Aminatou Sow and [millennial money expert] Tonya Rapley from My Fab Finance.