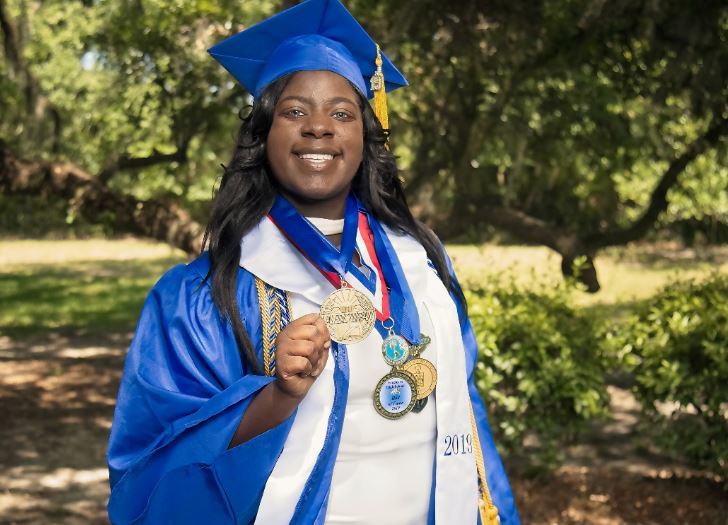 In a graduating class where less than 10 percent of students are black – Khadeeja Franklin is the pupil on top.
Franklin made history on May 14 when she graduated from Vancleave High School as class valedictorian, but she's the second-ever black student to hold that title at the top performing public school located in Mississippi.
"This was a special achievement, because it has not been done in many, many years. This is something that many people did not want to happen," said Franklin who spoke to Rolling Out on Tuesday, May 28.
"However, I knew that it had to be done. When I became valedictorian, I started a fire in many young African Americans' lives," added Franklin.
Franklin who maintained a perfect 4.0 GPA didn't just hit the books, she was active in a variety of sports including softball, basketball, and volleyball, and participated in several school organizations.
However, above all, the soft-spoken Franklin said that she never missed a Sunday or Wednesday service at church.
"I guess you can say that I stay grounded by my faith and my goals. I knew from a young age that this was one of my goals. I made a promise to myself to keep God first and to not let society or social media mess it up for me," Franklin told Rolling Out.
According to the 18-year-old, church and Jesus Christ, which were instilled in her at young age, kept her grounded in school and in the face of adversity.
The high-flier shared that it wasn't always a walk in the park, having to deal with the separation of her parents and a lung cancer diagnosis for her grandmother.
Of her grandmother Franklin said, "she is one of the people I do this for."
When asked if she had a celebrity role model, the 18-year-old said, "I do not think that I have a celebrity that is my role model. Honestly, Jesus is my role model and my mom, because they are the ones that push me."
"However, I do admire First Lady Obama for the things she has been doing. Her quote 'When they go low, I go high,' is very inspirational to me. I put it in my speech," added Franklin.
With a full scholarship to the University of Mississippi in the fall and hopes of becoming a neurosurgeon, Franklin said that her academic preparations have already begun.