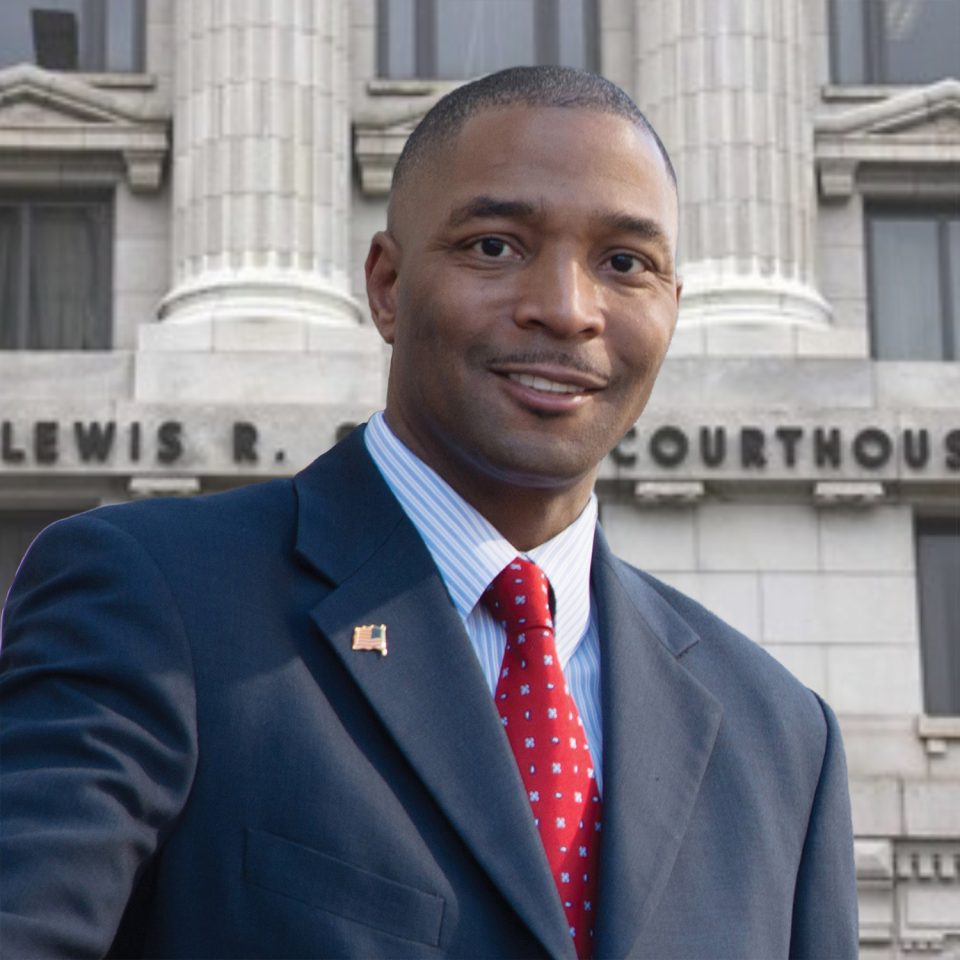 Keith E. Gammage is an Atlanta native and the solicitor general of Fulton County. He earned both his undergraduate and law degrees from Southern University in Baton Rouge, Louisiana. As the solicitor general, his office prosecutes misdemeanor offenses, including domestic violence, cruelty to children, impaired driving, elder abuse, and animal cruelty.
Since taking office in 2017,  Gammage continues his mission of smart, fair and restorative justice through several community initiatives focused on jobs over jails and second chances. He has been recognized for his work in restorative justice and is the recipient of excellence awards from former U.S. Attorneys Sally Yates (2016) and John Horn (2017), the Pinnacle Award for Equality in Justice (2018) and the Gate City Bar Association's R.E. Thomas Civil Rights Award (2019).
Gammage is a happily married father and an active member at Ebenezer Baptist Church. He explained to rolling out how Southern University prepared him to practice law and shared his experience working in urban environments.
What attracted you to the legal profession?
I was attracted to the legal profession because it is the primary profession by which a single individual, through the pursuit of justice, can improve lives both for individuals and broader society.
What is your philosophy on the legal justice system?
As elected prosecutors, I believe that we hold the keys to justice. Each day, we should endeavor to move forward toward justice, which we have yet to attain in the American criminal justice system. I and other right-minded prosecutors are focused on delivering fair, meaningful solutions.
Describe your experience, if any, working in an urban (inner city) environment.
Hailing from Atlanta, as first an assistant public defender, I represented clients charged with heinous offenses from Bankhead to Buckhead. I've prosecuted in Clayton County and currently, now as the elected prosecutor for Fulton County. There is a special responsibility in the urban community, to deliver justice to all, especially the poor, underprivileged and historically disadvantaged.
How well has your university prepared you for the legal profession?
Southern University prepared me to practice law at the highest level. Born out of a commitment to providing excellent legal education for African Americans, Southern Law also instilled in me an abiding philosophy to be an excellent advocate, as well as a warrior for the community, as do most HBCUs.
What qualities make for an effective lawyer?
Every effective lawyer must display honesty, have dogged determination, use sound judgment, and possess a fearless commitment to improving society.
What advice would you offer a law student just beginning his or her career?
I would encourage all new lawyers to pour everything they have into both learning the law, and expanding their network among lawyers, community leaders, and business professionals. In the process, work hard to determine your passion for law and seek public service.