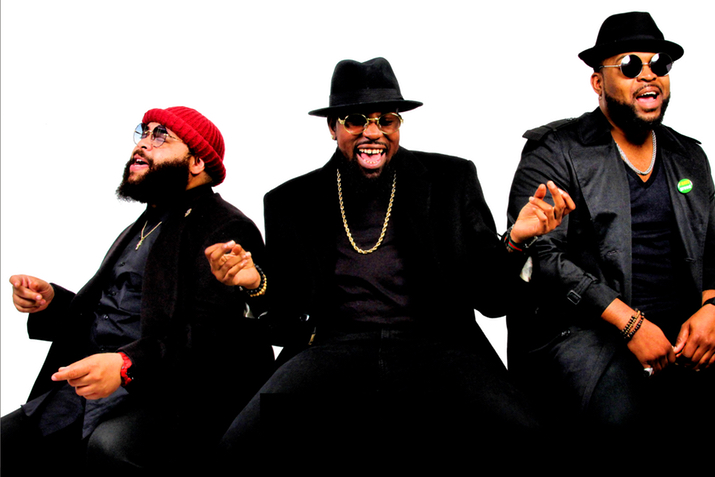 The Hamiltones, J. Vito, Tony Lelo, and 2E made their presence known to the internet with their comedic rendition of "Respek" from the infamous Birdman Breakfast Club interview. Currently singing background vocals for Grammy-winning R&B and soul artist Anthony Hamilton, the North Carolina trio continues to strike it hot having collaborated on Grammy nominated projects with PJ Morton, Jonathon McReynolds, Tori Kelly.  The Hamiltones are now debuting their new EP, Watch The Ton3s.
Recently,  rolling out had an opportunity to chat with The Hamiltones, discuss their new EP, and their summer cookout playlist.
How does it feel to continue the momentum of your viral success? 
Corey: It's a good feeling! The momentum continues to be very organic. Going viral wasn't planned, but it's exciting to know that success didn't take away from our music. It helped. 
Your New EP is titled "Watch the Ton3s." What do you want your fans to listen for in your music? 
Vito: Well for a long time we were known for our comedic yet great sounding harmonies in songs we've made up. But we're musicians at heart. We're artists too. So more than anything "Watch The Ton3s" is just to see what more we have to offer, and that is to bring greatness to the world through our gifts.
Your single "Pieces" shares the importance of fixing the cracks in relationships to make them work. Do you feel our society understands the significance? 
Vito: Some people do and some people don't. Many people believe in fighting for love while others don't. "Pieces" is simply saying "I'm nothing without you." The Hamiltones are salesmen of love. That's what we wanna promote in our work. Love, that's the importance of any relationship.
How does it feel to be the only R&B group in 2019?
Tony: It's a beautiful thing. As an R&B group, we don't have to confirm our sound to sound like others. We have our own sound. It's not regurgitated, it's authentic. It's like a breath of fresh air. Our group has music that you can sing to. That's always a good feeling. 
It's summertime and people are preparing for summer holiday cookouts. What's on your cookout playlist?
Vito, 2E, and Tony: Here's what's on our cookout playlist.
The Hamiltones

Thundercat

Marvin Gaye

Motown artist of the '60s and '70s 

Stevie Wonder

Frankie Beverly 

90's R&B 

Jodeci

PJ Morton

Da Baby
Watch The Ton3s is available now to download and stream on all digital music platforms.