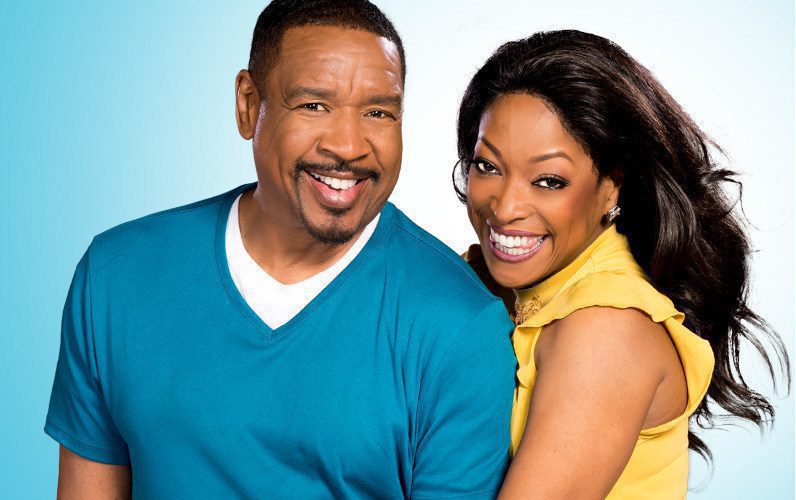 Season 5 of In The Cut is set to air on Monday, July 15, 2019. In the comedy series, Dorien Wilson plays, Jay Weaver, an accomplished entrepreneur, barber shop owner and new husband to Cheryl, played by Kellita Smith.
Cheryl is a boss in her own right, as the co-owner of the beauty salon next door and the love of Jay's life. As if that weren't enough, Jay is also navigating a relationship with Kenny, the adult son he never knew he had, played by Ken Lawson. In The Cut also stars John Marshall Jones as Smitty, Laura Hayes as Mabel and Dorion Renaud as Percy.
The comedy series, which will air new episodes every Monday night this summer, was created by Bentley Kyle Evans who also produced sitcom classics Martin and The Jamie Foxx Show. 
Rolling out was able to catch up with Dorien Wilson and Kellita Smith to talk about Black love, comedy and the season that brings it all together.
What can we expect from season 5 of In The Cut?
Kellita Smith: In seasons 3 and 4 Cheryl and Jay's relationship blossoms and in season 5 they are now a team. Cheryl is now his wife, and they are partners. What is comedically delicious is that with each season you get to see the development of each character. It shows how love can get stronger and be funnier.
Dorien Wilson: This season Cheryl and Jay are dealing with married life, and the joys and the headaches that come with that. Season 5 is a great season.
In The Cut reinforces many aspects of the Black experience, like Black entrepreneurship and Black love. How important is it to be apart of that?
KS: I don't think we've seen the father and son dynamic that Jay and Kenny have, in our culture, in a sitcom. The chemistry is amazing. Although Kenny is an adult, he plays vulnerable enough to be a son who wants to connect with his father. It's important and enjoyable that we keep such a poignant subject light and humorous. We're exploring the dynamics of an African American male and female. They're moving through life in a powerful way and finding the time to connect with someone they enjoy.
DW: We're so very pleased and proud of the fact that we're representing and bringing back Black love on TV. Cheryl and Jay really care about each other, and they're going through stuff and figuring it out together. I love showing that side of the African American male. We don't always get an opportunity to do that. 
What is your favorite scene from season 5?
DW: I have such a great time feeling and figuring out Cheryl and Jay's relationship. The whole aspect of getting to know each other has been challenging and fun. There was an episode where Cheryl lost jewelry…
KS: Yes! I was going to say that too. My favorite scene is the episode where, spoiler alert: I lose a significant, wonderful piece of jewelry. Smitty and Jay are trying to confiscate it under my nose, and it just can't happen. The way they play their attack is hilarious, and its timing reminds you of a Honeymooners, Fred and Ralph type of situation. It's poetry in its comedic essence. They do great work. 
In the age of reality TV, how important is it to continue the tradition of Black sitcoms?
DW: We feel so blessed and fortunate, to be able to still put out an excellent scripted product, and have amazing actors to bring it to the audience. It does take talent to do what we're doing. Reality stars are stars in their own right.  The more we write, produce and direct, I think we'll be at the forefront of the camera more. We're able to choose our own destiny.
KS: It's imperative that there's a scripted show that produces talent, a work ethic, and a crafted art. I feel strongly about reality TV stars gaining a celebrity without really crafting an art, and about it even being in the same genre. It's imperative that you show the difference in a television celebrity and a crafted artist who's celebrated for working on television.
Name one person you haven't worked with yet, and would love for them to guest-star on In The Cut?
KS: Kevin Hart. Stop playing! Listen. I need him to come into the hair salon and be a booster and try and sell me something. 
In The Cut airs Monday nights starting July 15th on Bounce TV.