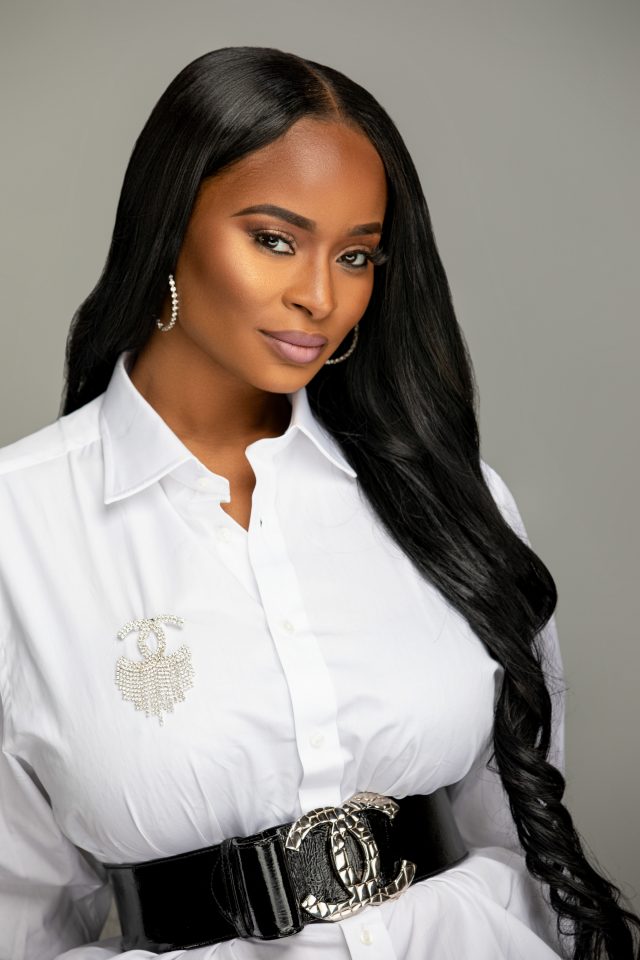 Season 8 of Basketball Wives is off to a volcanic start and the series just may have introduced us to reality TV's newest star: Dominique Lenard. She's a down-to-earth natural beauty, a mom of three daughters, an entrepreneur and a native Detroiter who was previously married to retired NBA player Voshon Lenard for 20 years.
If you've been watching this season, you know there's friction between Evelyn Lozada and Jennifer Williams, two of the original franchise cast members. Dominique Lenard is "team-Jennifer." However, being "team-Jennifer" automatically made her a target for Lozada and the rest of the girls. This was proved in episode six when Lenard made explosive waves by vehemently clashing with Lozada, all while standing up for her friend, Williams.
We spoke with Lenard to give her the opportunity to personally set the record straight. Lenard shared a lot in regards to being a phenomenal mother, a University of Michigan college graduate, an entrepreneur, the CEO of Loyal Hosiery, and much more.
Let's talk about who you are as a person.
I'm a phenomenal mom of three daughters. They're my main priority. I had them really young, so I was a teen mother and I did my best to raise them. My girls and I are all really close.
One of my biggest accomplishments is that I graduated from the University of Michigan. I'm an entrepreneur, and I owned three franchise restaurants before divorcing my ex-husband. I was a NBA wife for 20 years, and we divorced when I was 35. We brought the first three Wingstop restaurants to the Detroit area. We ended up selling due to our divorce.
Currently, I run my own business, a hosiery line named Loyal Hosiery. I've been doing that for approximately six years. It's very successful in his own right.
I also started acting. I've been in a couple of movies and videos too. I was in a movie that came out in April named "Birthday Behavior" and I'm looking forward to doing more in the future.
What can we expect from this season of Basketball Wives?
I started filming late in the season. It was pretty dynamic for me coming in. My friend [Jennifer] was a target and she has so many enemies on the show. I guess you can call them 'frenemies'. Typically, I'm not a sh*t starter, even though people think that because you're from Detroit, you automatically have this stigma of being mean. I just look [mean] and I'm pretty rational. I'm a girl from the Midwest, and we're typically down to earth people that "get-it." We're not fake and phony.
My friend Jennifer has been a target, and I feel like if everybody's talking about you, that must mean you're poppin'. And I feel like they're constantly talking about [Jennifer]. When I came in, I aligned with Jennifer [against her enemies]. Everyone that didn't like her, didn't like me, just because we were friends. And I'm going to be true to my friendship, as you guys will see unfold in the rest of the season.
How do you get along with the other ladies?
Initially, everybody seemed to be cool, but you'll have to [keep watching]. I came in very open. Jennifer is not a friend who says "I want exclusive rights to your friendship." I like to get to know people on my own. I came in trying to be true to myself. You can lose that on reality TV because people want you to pick a side. That's just a part of life. You can't ride the fence. And I'm not a fence rider. Even if I like you, I'm still going to ride with my home girl, you know? That's just where I come from. At some point, I had to make a decision. When that decision unfolds, you'll see.
How do you think you will be received?
Detroit girls are true to who we are. You'll see that in the show. People just automatically assume that you're going to come in and be one kind of way; and sometimes they might be right. But, I don't think that we naturally come in starting sh*t. I think Detroit women are some of the most levelheaded women that you'll ever meet. We make it make sense. I was true to my native. I was true to myself. I'm a mother first, so I'm always watching what I'm doing. But when things need to be addressed, they will be addressed.
Basketball Wives airs Wednesday nights at 8pm, on VH1.