Popeyes generates millions of dollars from Black Twitter and news (video)
Popeyes created a national craze with the debut of their new chicken sandwiches and bodaciously challenged its competitors in that category. Reports of long lines at their franchise stores have been recorded on social media and by traditional news outlets across the country for the past few weeks.
The new chicken sandwiches also pitted Popeyes against undisputed industry leaders Chick-Fil-A and Wendy's. Unfortunately, according to their own executives, Popeyes has had bow out of the competition temporarily, as they literally ran out of chicken.
Yes, a corporation that sells chicken ran out of chicken sandwiches. You read that right.
However, before Popeyes depleted its reservoir of chicken sandwiches, the fast-food chain generated upwards of an astronomical $23 million in free advertising based upon the endless blizzard of chatter it generated across social media platforms — especially on Facebook and Instagram — as well as in news reports from major TV outlets.
$23.25 million: Equivalent ad value in media mentions for "Popeye's Chicken Sandwich" in first 11 days from Digital, Newsprint, Radio, TV and Social, according to @apexmarketing. pic.twitter.com/cXhfrtDnqY

— Darren Rovell (@darrenrovell) August 22, 2019
Another estimate put the dollar amount north of $50 million, though it has not been confirmed. A debate has suddenly erupted on Twitter as to what was most responsible for Popeyes striking gold among urbanites with the chicken sandwiches. Some point to Popeyes' "brilliant" marketing, while others say that, as usual, urban consumers move the needle on the marketplace and that Black culture is appropriated to fulfill those objectives.
It was the work of #Blacktwitter not brilliant marketing by Popeyes executives.

— MIA 🏀🔥🏀🏆🏆🏆🎧 (@MiamiDynasty) August 22, 2019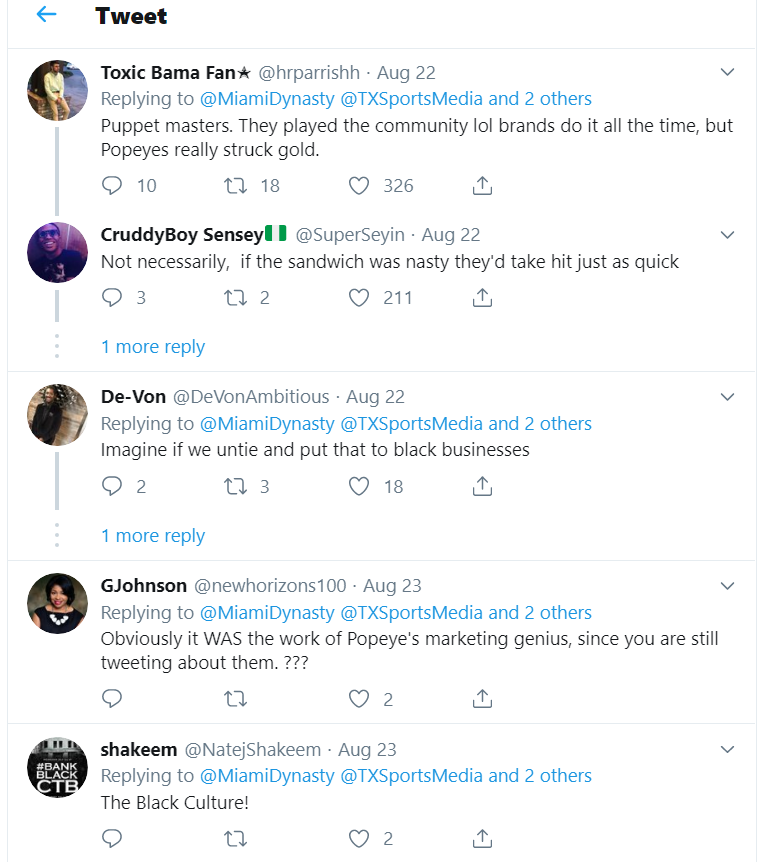 The phenomenon became so fevered that even celebrities got involved. Quavo, of the award-winning rap group Migos, began selling Popeyes out of the back of his car. Tristan Thompson created a national stir when he bought everyone in line a chicken sandwich in suburban Los Angeles. Check out both celebrities below: