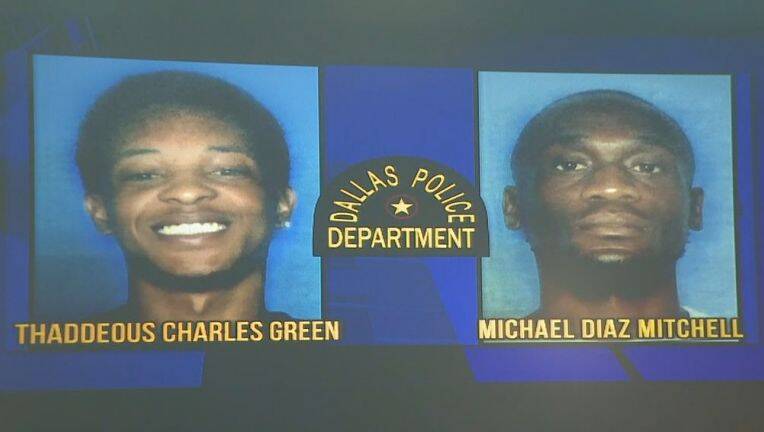 The Dallas Police Department announced the arrest of two suspects in the shocking shooting death of Joshua Brown, the key witness in the Amber Guyger murder trial, while a third man remains on the run.
Brown was fatally shot just two days after Guyger was convicted of murdering her neighbor Botham Jean in his own home. Brown's lawyer, Lee Merritt, said Brown was always paranoid about getting shot and killed for testifying against a cop.
According to the Dallas Morning News, the three suspects are from Alexandra, Louisiana, about an hour north of Baton Route and four hours east of Dallas. One suspect, Jacquerious Mitchell, 20, was arrested at a local Dallas hospital after being shot by Brown during an alleged drug deal gone bad, according to police. Mitchell then reportedly snitched on his two accomplices. Mitchell was apprehended when the hospital made the mandatory phone call to police whenever they treat a gunshot victim.
The second suspect, Michael Mitchell, 32, was the reported getaway driver in the alleged murder of Brown at his apartment complex.  He was arrested at a motel in Marksville, Louisiana, Tuesday evening, Avoyelles Parish Sheriff's Office Chief Deputy Steven Martel said.
The third suspect, Thaddeous Green, 22, remains at large.
Gugyer,  a former Dallas cop, was found guilty of murdering neighbor Botham Jean in his own apartment and was sentenced to 10 years in prison.
Police said in a press conference that the men drove from Louisiana to meet Brown in Dallas for a drug deal. When an argument ensued, Brown allegedly shot Jacquerious Mitchell in the chest. Green then returned fire, striking Brown twice and killing him on the spot, NBC News reported police stating.
According to NBC News, the men then confiscated the items in Brown's backpack and fled the scene. Jacquerious Mitchell was dropped off at the hospital as the others reportedly fled the state.
After receiving a "tip," Dallas police conducted a search of Brown's apartment where they reportedly found about 12 pounds of marijuana, 149 grams of THC cartridges and more than $4,000 in cash.
See the full report on CBS News below: