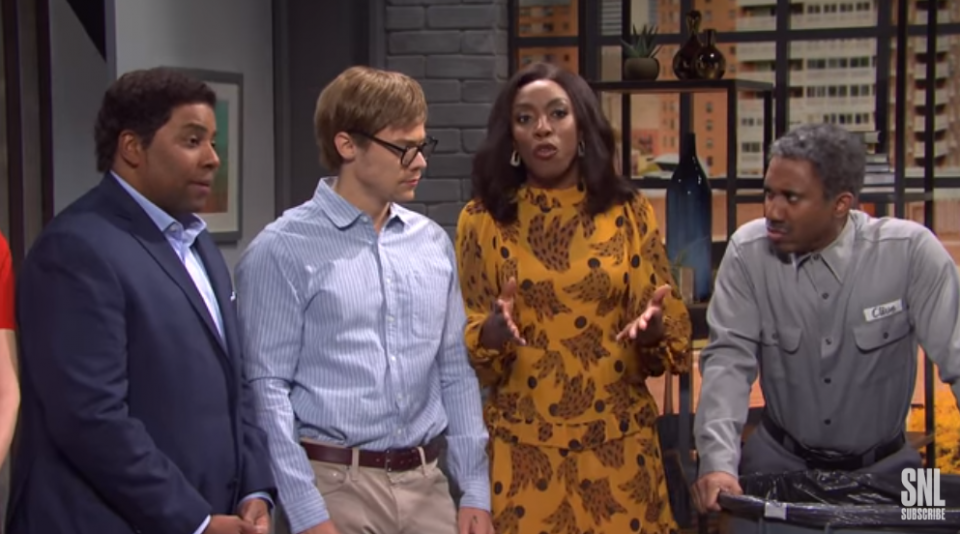 "Saturday Night Live" has done it again. Once again, SNL took a pop culture phenomenon or controversy and transformed it into a hilarious skit for their late-night comedy show audience.
SNL produced a horror skit in the vein of Jordan Peele's monstrously-successful Get Out film about a blissfully naive White British intern who volunteers to go on a Popeyes chicken run for the office.
The sketch, titled "Lunch Run," features English pop star Harry Styles who is determined to go to a Popeyes store alone to get a bunch of chicken sandwiches. This horrifies the rest of the office staff, which includes Keenan Thompson.
"They don't have one back in England. It's just like KFC. Right?" Styles asks his co-workers.
"No. No, it's not," Thompson says about the Louisiana-style chicken.
"Well. Either way, I thought I could go there by myself and get 15 chicken sandwiches," Styles insists.
Of course, the skit works because of the myriad of high-profile altercations at the popular chicken restaurant, which have occurred nationwide ever since it began offering the sandwiches earlier this year. This has, unfortunately, included a tragedy that unfolded in suburban Washington when a man was stabbed to death after cutting a long line in Oxon Hill, Maryland.
Check out the funny Saturday Night Live skit below: