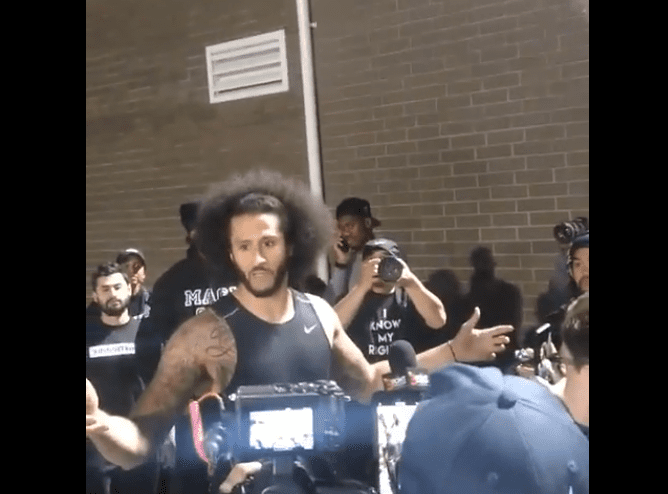 Shoe and apparel king Nike is going to release the sleek new Colin Kaepernick signature shoe in December, despite the fact the exiled quarterback is still not in the NFL.
The sneakers are going to be a "a new colorway of Nike Air Force 1 lows which Kaepernick wore as he warmed up in his recent workout for NFL teams," Heavy.com reports.
Former teammate Eric Reid, who knelt with Kaepernick back in 2016 as a member of the San Francisco 49ers, posted a photo of Kaepernick's signature shoes.
"Game day fit 🔥You already know #ImwithKap y'all see the kicks," Reid posted on Instagram.
Reid is now a member of the Carolina Panthers and continues to support Kaepernick publicly. He also successfully sued the NFL with Kaepernick alleging collusion and also received a settlement worth millions from the league.
Incidentally, Reid was present with Kaepernick during NFL workout debacle in Atlanta.
Nike feels emboldened to come out with Kaep's own signature shoe. Despite the fact that Kaepernick was mercilessly maligned and vilified by conservative Americans, Nike's stock rocketed to record numbers after they named Kaepernick a Nike ambassador.
According to Yahoo Sports, the Nike deal is worth "millions per year plus royalties" for Kaepernick.