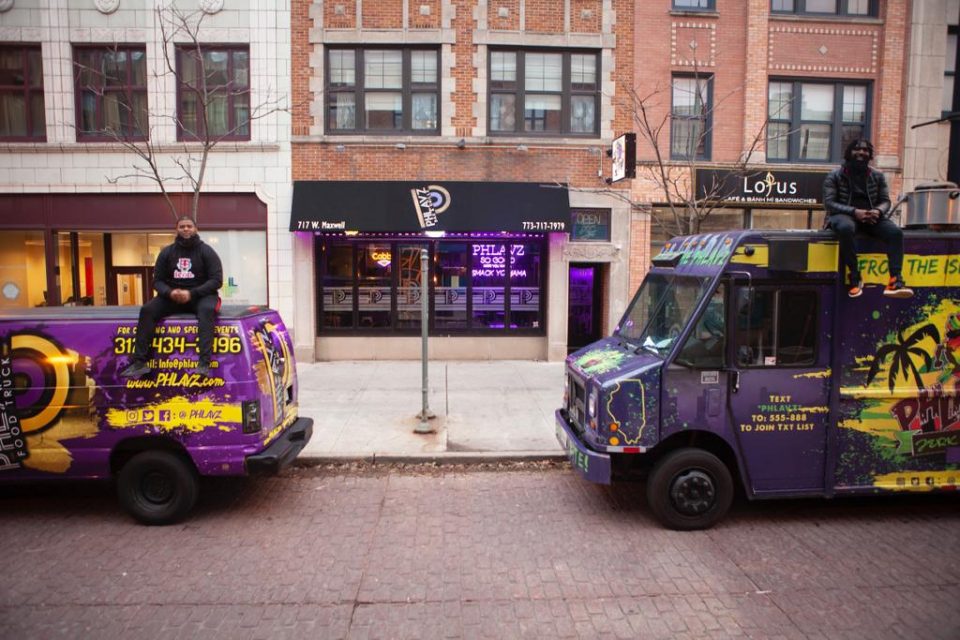 Phillip Simpson and Andrew Bonsu combined forces to join the food truck boom taking place in Chicago. The name of their company is Phlavz and they serve food all over the city. As businessmen, they continue to make important strides. When they are not selling food they share their blessings with the homeless who line the Kennedy expressway. Rolling out spoke with the business owners and discussed why they are in business, gearing up for the opening of their new restaurant and a few tips for new entrepreneurs.
What inspired you to start Phlavz?
Phil: My passion for cooking at a young age created an entrepreneurial spirit that led us to come together and take this to a larger scale. 
Andrew: Phil would be selling plates to whoever came by his house when he was grilling and he would sell out within hours. We decided in 2017 to come together and form a business that would take his passion for cooking and my independence of running a management company to do something dope for our future and our legacy. We decided on the name Phlavz. Then we started approaching friends and family to help purchase our first food truck while still selling plates and finding the right menu to represent the name we came up with for the business.
What have been some of the biggest challenges?
Andrew: Of course there are many challenges but the most challenging was the process of building the food truck and acquiring the food vendors' license. Also, all the rules and regulations that come with moving the truck through the city and surrounding areas. 
What is the most popular food you serve now?
Phil : On the food truck we serve jerk tacos, jerk chicken tips, and jerk chicken nachos and cheese. At our physical location, our tastings that became popular are the on the border specials which include our fried wings with our special jerk sauce, our Italian jerk combination, and our Latin jerk combinations. The main hit is the jerk chicken egg rolls. All of these have become a crowd favorite, everyone loves our Phlavz.
What three business tips you would recommend to new owners?
1. Know what you want and get a team that will help you get it.
2. Take every mistake as a lesson to improve your business. 
3. Speak with other restaurant owners. Don't be shy to ask questions and definitely believe in yourself and keep God first.
What is next for Phlavz?
Phil: Our grand opening on Dec. 7, 2019 and expanding our food trucks. Improving and contributing  to our foundation of feed the streets.
Andrew: We want to continue to give back to the community while building our brand and adding new black-owned businesses in the University Village and Chicago's very own Maxwell Street area. [We are also] looking for our new location on the near northside at 717 W. Maxwell St. Chicago, IL