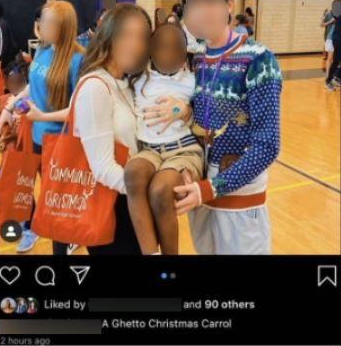 A Louisiana mother is fuming after two White students posted an Instagram photo of her child with a racially insensitive caption during a holiday event at Byrd High School in Shreveport.
The students took it upon themselves to hoist a 5-year-old Black child in their arms, take a photo and caption it: "A Ghetto Christmas Carol."
"'Ghetto Christmas Carol.' Really? Ghetto?" the child's mother, Sharon Martin, asked local ABC affiliate KTBS. "Why? Because he's Black?"
The post, which appeared on Instagram and quickly went viral, has since been deleted.
Clearly frustrated over the photo, which she reportedly told the school was a no go in the first place, Martin found the incident hard to believe.
"I don't get it. I didn't get it," she offered with added confusion. "Like, why would they just write that? They could've left the ghetto part out and I would've been probably OK with it."
Sharon's nephew, Danny Martin, was equally flustered and vowed to be a savior of sorts for his cousin and other children who might fall victim to similar consequences.
"He's 5 years old," Martin told the station. "He doesn't know what's going on. He doesn't know about all the comments, posts on social media. He doesn't know that. So it's my job as his cousin to protect him from seeing that and also to protect any other child that's affected by this that's been happening anywhere in Shreveport."
Flip the page to see how the White high school students' parents responded.