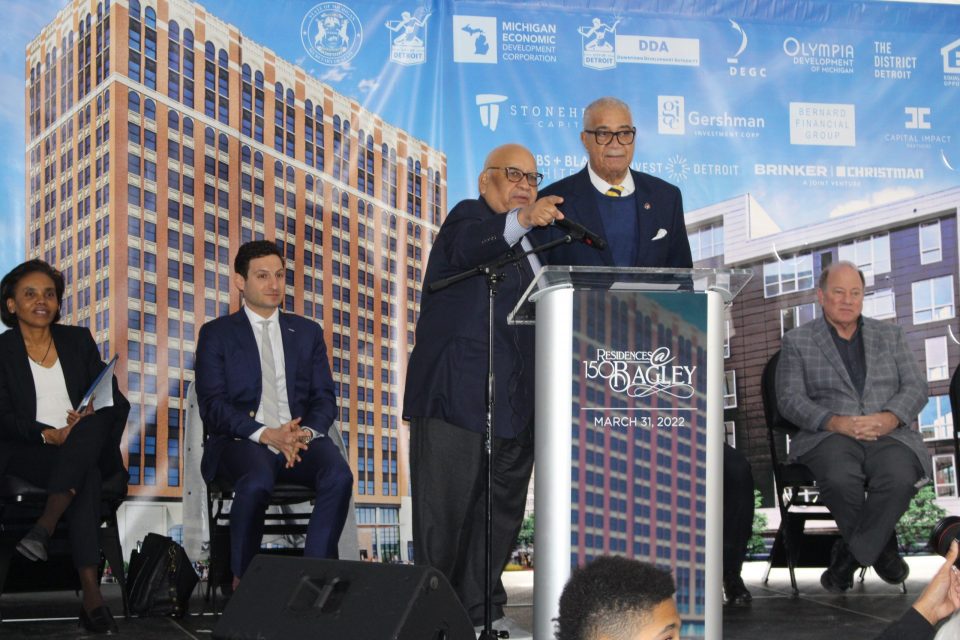 Tom Goss is the president of Goss, LLC. Insurance and he's one of the partners helping to lead the $75M renovation project of 148 luxury units at the Residences @150 Bagley in Detroit. Goss is one seventh of The Bagley Development Group (BDG), a Black-led development team, which consists of  managing partner Emmett Moten, Scott Allen, Larry Brinker Sr., Richard Hosey, Roy Roberts and Jim Thrower. These developers have combined decades of development experience in Detroit.
The group recently announced the redevelopment project to a standing room only crowd during their groundbreaking held on March 31, 2022. The 94 year old, 18-story United Artists Theater building will be transformed into an upscale 148-unit residential building named The Residences @150 Bagley, with 20% designated as affordable. The building will also have about 10,000 square feet of ground-floor retail and restaurant space and is scheduled to open in late 2023.
The U.S. Department of Housing and Urban Development is backing the project's $43M, 40 year mortgage. In addition to the HUD-backed loan, the project also received $8.5 million in loans from the Downtown Development Authority, a $7 million loan from the Michigan Strategic Fund and $3 million in federal Community Development Block Grant funds.
Rolling out spoke more with Goss about his role in the project and how a project of this magnitude helps out the city of Detroit.
What does it take to assemble a team of all Black-led developers on such a historic project like this?
First, on the team, we really went thorough a list of people of who we wanted to be a part of this. We wanted to make sure everyone that was going to be a part of it really wasn't going to need a job, and they had the foresight to think about the future. Then it came down to character, core values, and more.
What does it take to bring a project like this to fruition and when will the project be completed?
It took tenacity to stick with this for six years. We've had a weekly Wednesday conference call, 52 weeks a year, even when we were on holiday. We've finally made it to the promise land. Now we have to deliver, and it will be delivered towards the end of 2023.
How does a project like this help the city of Detroit?
Number one, it gives more options for people to consider: You'll be able to work from home as well as go to your office in the same building. All of our units will be green and high tech. It's also going to create a lot of jobs. Just think about all the new construction jobs that are being created.