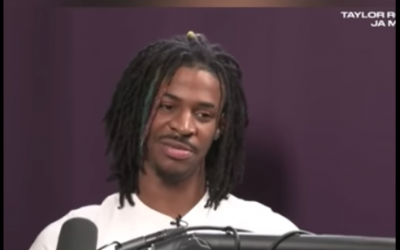 Ja Morant has become a hot commodity in the NBA due to his spectacular aerial acrobatics, his amazing dunk shots, and his unmitigated brashness.
But some may think that the rising superstar for the Memphis Grizzlies possesses hubris because he had the temerity to utter publicly that he would have "cooked" Michael Jordan if he had played during his era.
Jordan is universally considered the GOAT — the greatest of all time — in the NBA, so having the audacity to say that he would have used Jordan or toyed with him takes some series moxie —  or idiocy, some fans believe.
During an interview with The Bleacher Report, Morant said he unequivocally believes in his skills so much that he would have given the GOAT the business.
"I wish I would've played in his generation, though," Morant told TBR's Taylor Rooks. "Just how he go about the game, that mindset he had … I would like to play against him. … I would've cooked him, too. 
Rooks flashed a look of disbelief that Morant let those thoughts tumble off his lips.
"Nobody got more confidence than 12," an undeterred Morant continued. "I'm never gonna go and say nobody gon' beat me in one-on-one or anything."
"I would've cooked him too" 😂@JaMorant is confident he would've beat Michael Jordan in his era pic.twitter.com/TEKJtcgqJC

— Bleacher Report (@BleacherReport) July 10, 2022
Some current and former NBA players probably consider this unadulterated blasphemy since Jordan is a six-time title winner, a six-time Finals MVP, five-time league MVP, a 10-time scoring champ and one of the only players to ever win the Most Valuable Player and Defensive Player of the Year in the same season. MJ's resume is almost as impeccable as it is astonishing. 
Furthermore, Jordan stood at 6-foot-6 which is decided height advantage over the 6-foot-3 Morant. The 22-year-old would have undoubtedly been victimized repeatedly by MJ's patented and potent turn-around jumper that players taller than Jordan could not stop. 
Besides, it doesn't take much courage to call out the soon-to-be 60-year-old Jordan, who was last at his stupendous peak way back in the 1990s. That fact renders Morant's words irrelevant.
#JaMorant Just. Say. No. PSA 🤡 pic.twitter.com/pGpoE1ABQ7

— Champ Kind (@RealHEELTURN) July 11, 2022
#JaMorant got jokes 🤣🤣 pic.twitter.com/Sqqgol6Bpa

— Jay Crane (@JaySellsTX) July 11, 2022
There's cocky, and then there's dumb🤦‍♂️ #JaMorant https://t.co/4Ej1O3Kaz0

— Yazen Barakat (@YazenBarakat1) July 11, 2022
Listen to Morant's interview in full below: