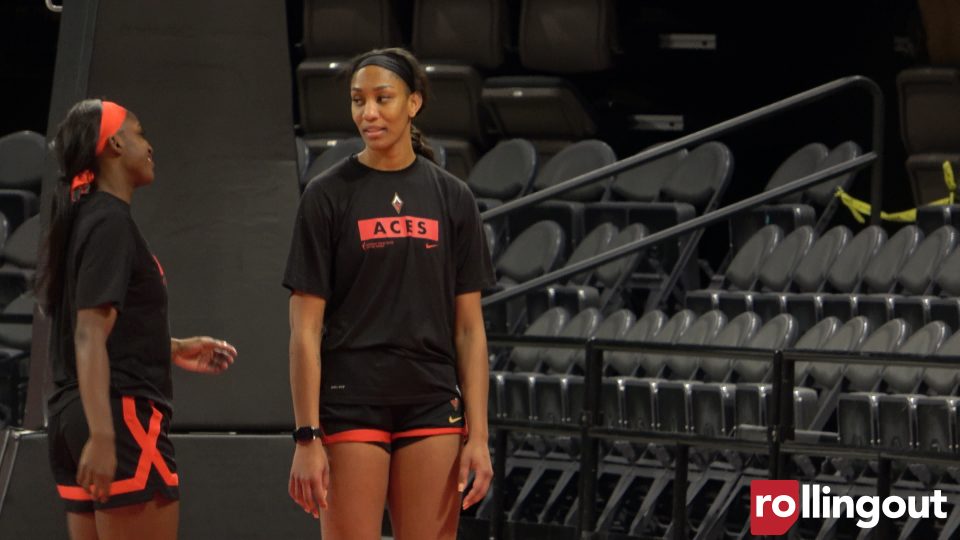 A'ja Wilson's ascension into a Hall of Fame career continues it's upward trajectory.
The Las Vegas Aces' star forward took home both WNBA MVP and Defensive Player of the Year honors for the 2022 season. She's the fifth WNBA player in history to win Defensive Player of the Year and MVP in the same season, and the seventh player in league history to win multiple MVPs.
"It's amazing, it's great to be on that list," Wilson said in her MVP press conference on Sept. 7. "To have my name up there, is truly a blessing … I did not imagine this."
The MVP announcement comes hours after Wilson put up 23 points and 13 rebounds in a 97-92 WNBA Semifinals-clinching win over the Seattle Storm on Sept. 6. The thrilling series was capped off with the second-most viewed WNBA playoff game ever, reeling in 904,000 viewers and peaking at 1.4 million viewers on ESPN2.
The South Carolina native has another chance to win her first WNBA Championship against either the Chicago Sky or Connecticut Sun. Wilson also became the first female athlete to be on a Ruffles potato chips bag.
Wilson averaged 19.5 points and 9.4 rebounds per game, while shooting 50.1 percent from the field this season.
After winning a national championship and National Player of the Year in college at South Carolina under coach Dawn Staley, Wilson went on to become the No. 1 pick, a four-time All-Star, Olympic gold medalist and a Commissioner's Cup champion. Wilson said her drive to accomplish more is never satisfied because she wants to be considered one of the greatest players ever.
Atlanta Dream guard Rhyne Howard earned the WNBA Rookie of the Year award, to cap off a year where she also made the Team USA roster and the All-Star team.
"I won't lie to you guys and say I didn't have winning ROTY as one of my goals," Howard wrote after she won the award in The Player's Tribune. "I definitely did … So when I got that call that I won, it was such a rewarding feeling. Just knowing all the work I've put in and knowing the confidence my team had in me this season to go out there and do what I do — it's amazing to see it all pay off. It's amazing to get recognized."
Howard also wrote she had so much more to accomplish and told Atlanta "this is just the start … y'all haven't seen anything yet."
While Las Vegas Aces coach Becky Hammon won Coach of the Year, Atlanta Dream coach Tanisha Wright finished second in voting. Wright told rolling out that at the end of the Dream's season she was thankful for being considered for the award, and the credit goes to the players.
Full list: 2022 WNBA Awards
MVP: A'ja Wilson, Las Vegas Aces
Coach of the Year: Becky Hammon, Las Vegas Aces
Sixth Woman of the Year: Brionna Jones, Connecticut Sun
Most Improved Player of the Year: Jackie Young, Las Vegas Aces
Rookie of the Year: Rhyne Howard, Atlanta Dream
Executive of the Year: James Wade, Chicago Sky