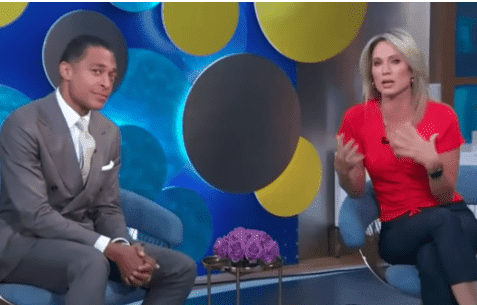 Neither T.J. Holmes nor Amy Robach will return to "Good Morning America" anytime in the near future, the media reports.
Both are under investigation by ABC, which airs "Good Morning America" and "GMA3: What You Need to Know," to determine if the pair violated the network's morality clause.
In the interim, a rotation of anchors will reportedly deliver the news in the time slot normally allotted to Holmes and Robach.
ABC News president Kim Godwin wrote in an internal memo obtained by E! News that "I understand that the continuing coverage can be distracting from the incredibly important work our team does here at ABC News," she said. 
"It is my hope that we will continue to focus our energy on what we do best, and I want all of you to know how immensely proud I am of your hard work and professionalism."
Neither Holmes nor Robach has commented on the explosive affair, though Holmes rankled the sensibilities of some inside the network when he joked cryptically about the affair in the week after they were exposed canoodling at a New York bar.
"You know, it's too bad it's Friday. It's been a great week," he laughed during the Dec. 3 episode of GMA3, to which Robach quipped with a blush of embarrassment: "Speak for yourself."
Robach then added: "I am very excited about the weekend, and I'm sure everyone else is too. We all love our Fridays around here — some of us do at least."
The situation was exacerbated when the two showed up for work on the Monday after their affair was made public, as if to flaunt their relationship inside the newsroom.
Check out the latest report below: