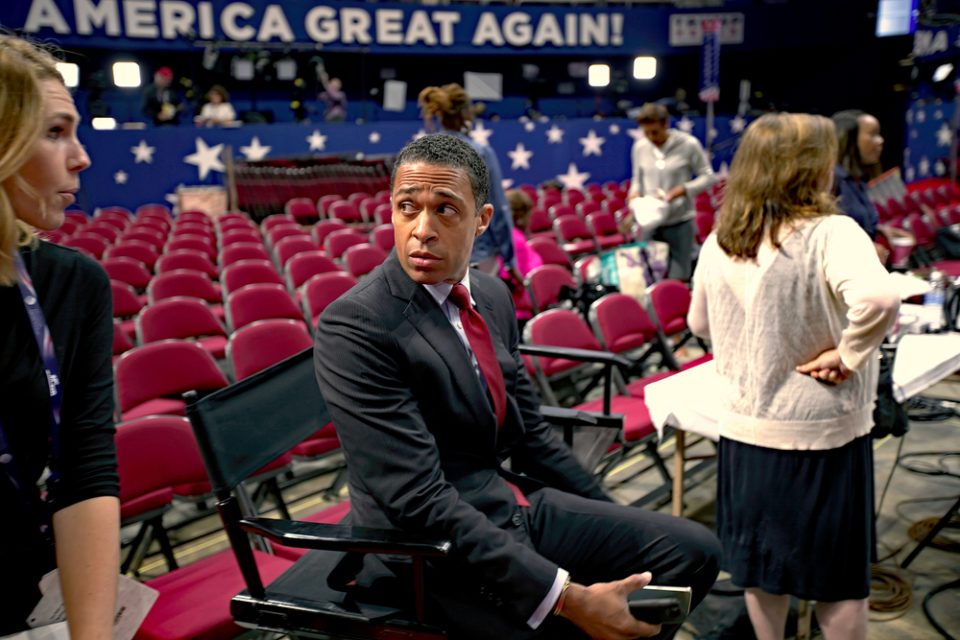 ABC honchos are reportedly looking to replace the popular but scandalized anchor T.J. Holmes permanently on "Good Morning America 3." 
According to a report published in Page Six, colleagues and viewers have responded positively to the performance by temporary replacement DeMarco Morgan and look to keep him in the anchor chair.
Moreover, the newspaper states that executives at ABC, which airs "GMA3," have no intention of bringing back Holmes and his girlfriend Amy Robach who had been hosting the show and generating high ratings.
It has been reported ad nauseam that Holmes and Robach, both married co-hosts at GMA3, were captured on camera in bars in both New York state and New York City in each others' arms and kissing one another.
It was quickly revealed that Holmes and Robach had been fully immersed in a sexual relationship while both were married and even went on vacations and trips together. Making the optics even worse is the fact that Holmes and Robach and their spouses would all go out on double dates while the affair was brewing.
With replacement Morgan – along with fellow anchor Rhiannon Ally – doing a commendable job and helping to stabilize the ratings, there is a belief that the two temporary hosts will keep the anchor chairs. 
Page Six reports that people were, "congratulating Morgan and telling him 'nice job.'"
"A lot of [people] were giving him a lot of praise, and he seemed very happy. He was the first to arrive and one of the last to leave," the insider told the newspaper. 
Meanwhile, both Holmes and Robach are reportedly bracing themselves for the inevitable ouster from the show that made them famous.
Another source familiar said, "there's nothing definitive right now," but it is "very unlikely" that [Holmes and Robach] will get their jobs back. 
"Anything is on the table. Anything is possible. It's frustrating, but [Robach and Holmes] are preparing themselves for the outcome," the newspaper reports.