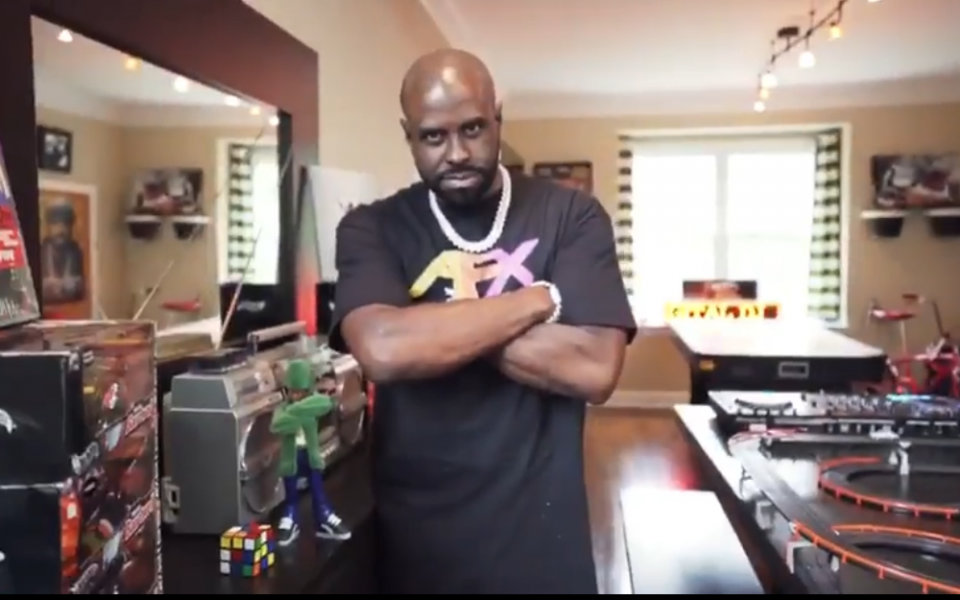 According to Hot 97 radio show host Funkmaster Flex's reasoning, many rappers and so-called gangsters are speaking with authorities and negotiating plea deals with prosecutors these days. Therefore, how can Flex continue to banish rapper Tekashi 6ix9ine's music from his show's playlist?
That rationale preceded Flex lifting the ban on Tekaski, who is equally infamous as famous for publicly snitching to the district attorney on members of a New York-based gang that he was once a part of. Tekashi, 26, got a very light prison sentence comparatively to what he could have been slammed with for his serial criminality.
Flex, the 54-year-old New York radio deejay who was born Aston George Taylor Jr., reposted Tekashi's Instagram video showing him hugging about $1 million in all hundreds on a private plane without exhibiting any fear of reprisals for returning to New York.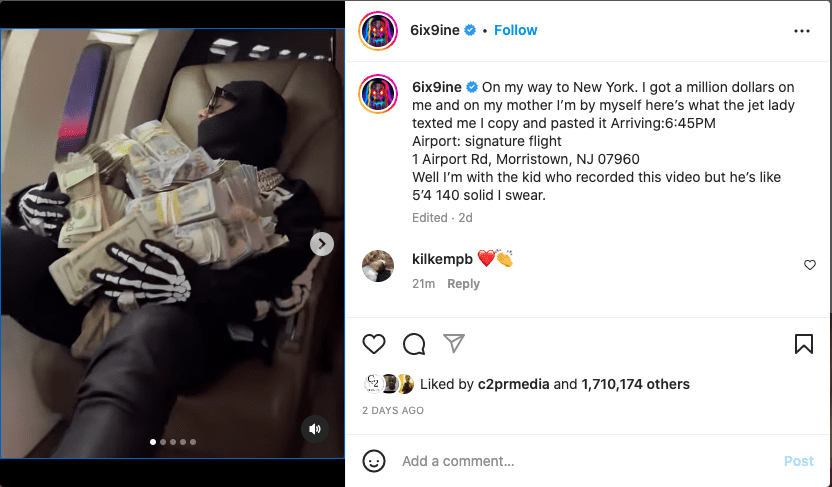 Using all caps, Flex penned the following caption to the repost:
"(UPDATED) SPOKE TO @JIMJONESCAPO HE EXPRESSED THAT FOR HIM THERE WILL NEVER BE ANY TOLERANCE FOR TESTIFYING AND COOPERATING! IN TODAYS ERA … JONES AND I MAY DISAGREE ON THE WHY OR WHY NOT THE MUSIC SHOULD PLAY OF PEOPLE WHO COOPERATE BUT WE BOTH AGREE THAT TIMES MIGHT OF CHANGED AND INTEGRITY IS FULLY LOST!
Flex added this: "THE TREND AMONGST ALOT OF CURRENT RAPPERS (SINCE AND BEFORE 6IX 9INE) CONSIST OF COOPERATING AND TESTIFYING," he said. "BE CLEAR… MANY OF YOUR FAVORITE ARTIST COOPERATE WITH LAW ENFORCEMENT… DONT LET ME CALL NAMES)."
Finally, Flex asked: "6IX 9INE U GOT NEW MUSIC? SEND IT! THURSDAY 7PM!" 
Interestingly enough, ratting out his friends did not hurt Tekashi much. He scored a major hit with Nicki Minaj right out of jail and his Instagram followership has swelled to 21 million since his release.
In the above post, Flex also lauds the likes of Bobby Shmurda, Rowdy Rebel, Fetty Wap, Boosie Badazz and Young Thug — the men who served long stints after refusing to rat out their crew members. Flex intimates that these aforementioned men are becoming a dying breed. 
Flex's post is in wake of rapper Gunna, a close affiliate of Young Thug, who struck a plea deal with Atlanta prosecutors in order to get out of jail and to avoid a lengthy prison sentence.
Resultant of that plea deal, Gunna has been vilified by some fans and even his music contemporaries have either made a song dissing Gunna or unfollowed him on IG.
lil baby, meek mill and tize4pf really unfollowed gunna it's not looking good

— гг ~ 𖤐 (@tize4PF) January 16, 2023