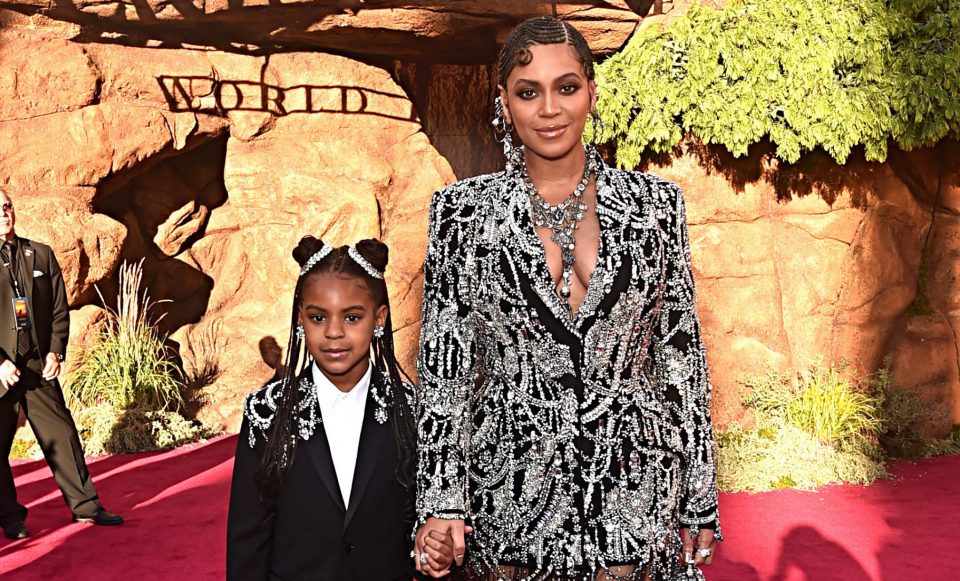 Beloved scene-stealing daughter Blue Ivy Carter joined her pop goddess mother Beyoncé for a riveting performance in Dubai.
Queen Bey, who returned to the stage for the first time in four years, held the audience captivated during her hour-long concert to christen the brand new Atlantis The Royal Resort in the ostentatiously wealthy nation.
Midway through the concert, the wife of rap mogul Shawn "Jay-Z" Carter, 41, was joined by her 11-year-old daughter Blue Ivy for a duet of their song "Brown Skin Girl" that the two performed previously on Beyoncé's The Lion King companion album from 2019.
Blue Ivy hitting the choreo 🥹 pic.twitter.com/JF6Y7YV6a8

— BEYTHOVEN is HEATED | non-affiliated fan account (@beyonceparkwood) January 22, 2023
Blue Ivy came out in a dazzling red sequined outfit while her mom wore a yellow corseted dress that was topped with a feathered wings and matching backpiece. 
After the song was over, Variety reported that Blue Ivy hugged her mom and walked up the stage's steps, where she blew kisses at the crowd and struck a pose before disappearing behind the stage. 
The highlight of #Beyoncé's amazing performance at the grand opening of #AtlantisTheRoyal #Dubai was when her daughter, 11-year-old #BlueIvy, joined her on stage to perform their Grammy-winning duet #BrownSkinGirl from the 2019 soundtrack album #TheLionKingTheGift!👏👑👑🇦🇪❤️‍🔥 https://t.co/pUSIAeBXz4 pic.twitter.com/1Ww1wWe8RW

— World Music Awards (@WORLDMUSICAWARD) January 22, 2023
i love when blue ivy and her subordinate performs 🥰 https://t.co/l8VD48I6tk

— quandale dingle (@ezzyneh) January 22, 2023
Blue Ivy doing choreo that im sure beyonce made her rehearse 100000000000x 🥺🥺🥺 but im crying https://t.co/ETXZadFRDV

— BeyonceHerHighness🌱 (@HighnessBeyonce) January 22, 2023
I believe in Queen Blue Ivy supremacy. pic.twitter.com/GuP65Ozg2v

— irem (@irootk) January 22, 2023