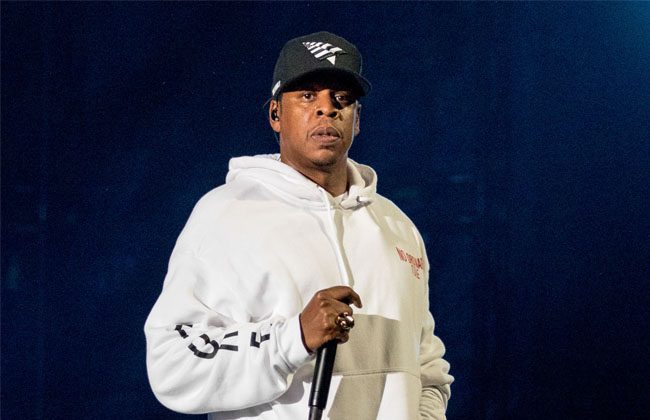 Rapper-turned-producer 50 Cent has turned heads with his emphatic and uncategorical rebuking of people who say that Jay-Z has had a bigger impact than Eminem in the world of hip-hop.
50 Cent says Eminem has had a bigger impact on hip-hop than Jay-Z 👀 pic.twitter.com/n4qowvSWRv

— Daily Loud (@DailyLoud) January 24, 2023
The topic began trending after former NBA star Jamal Crawford went on Shaquille O'Neal's "The Big Podcast" to talk about the five greatest players in league history.
The conversation transitioned over to music when Crawford used
Jay-Z and Eminem
as an analogy that states, in his opinion, dominance trumps the numbers.
"My five, the dominance outweighs the number," Crawford declared. "You can't change the game and say this person has more points than me, he's better. It's beyond that. Jay-Z's affect on hip-hop is bigger than any album sales Eminem will have. That's just how it goes."
Once Fifty got wind of Crawford's words via an Instagram blog, he responded with "Ha bulls—-," along with a sneezing emoji.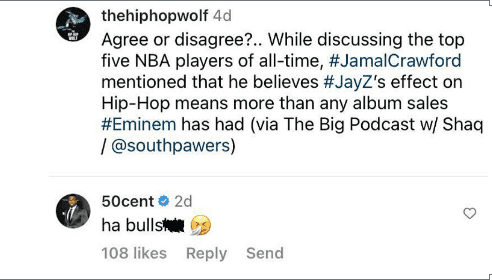 To be clear, Eminem's record sales cannot be dismissed under any circumstances. Last March, Slim Shady made history by becoming the No. 1 most-certified artist in the history of the Recording Industry Association of America. Moreover, the rapper ahs had 227.5 million record sales in is career, comprised of 166 million single certifications and 61.5 million album certifications, according to Billboard magazine.
Slim Shady is also one of only seven artists in any genre or era with three or more diamond albums with The Marshall Mathers LP (2000), The Eminem Show (2002) and Curtain Call: The Hits (2004).
JAY-Z's catalog is nothing to sneeze at either. His blockbuster third album Vol. 2 … Hard Knock Life and Watch The Throne collaboration with Kanye West are both five times platinum, while Vol. 3 … Life and Times of S. Carter, The Blueprint 2 and The Black Album are all triple platinum.
Listen in on one of the several times that 50 cent has defended Eminem;s mammoth musical legacy.