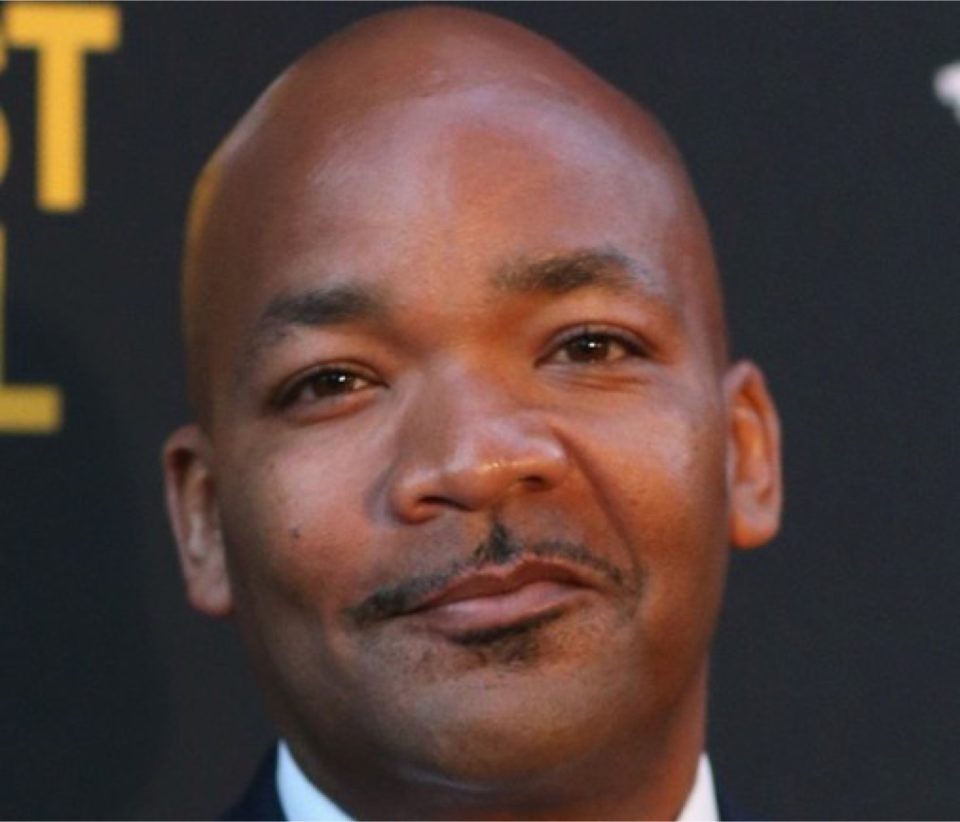 Dallas Jackson is a writer, director, producer and president of DJ Classicz, a production company focusing on edgy young adult-driven film and television projects. 
Jackson first wrote and produced "Uncle P" starring Lil Romeo and Cheech Marin for Nickelodeon, which led to him becoming a consulting producer on TeenNick's first season of "South of Nowhere" for executive producer Tommy Lynch. From there, Jackson has produced or helped on shows or films including"REBEL," "Straight Outta Heaven," THRILLER and Welcome to Sudden Death.
Jackson's most recent film project, The System, starring Tyrese Gibson, Terrence Howard, and Jeremy Piven was released in 2022 by The Ave and Universal Pictures.
Who are the top two directors who have motivated you?
George Lucas and Robert Townsend. In no particular order. The impact George Lucas had on me as a kid watching Star Wars was cool, and being able to dream that big, and then going to see Hollywood Shuffle with my father in eighth grade. It was nice seeing my pops laugh because I never really saw him laugh before, not in the movie theater. Knowing the legend of Robert Townsend, [and financing] that movie on his credit card and him doing stuff on the fly made me think I could do that.
Why did you want to be a director?
I had always dreamed about being in the movie and TV business. When I was a kid I started doing stand-up until I went to college. I even did stand-up a little bit in college at Howard. That's what I initially thought I was going to do, and my mom was like, "No, you're going to college." I thought once I got out of Howard, I would continue doing stand-up, but I majored in TV and film and I got enlightened to screenwriting. I had done writing in high school, but at Howard, I wrote for the newspaper, took a screenwriting class, and started writing on my own, and I enjoyed all of them. I made the conscious choice that I was going to move to LA and figure out how to get into writing. The directing part of it came once some of the success of writing came along, and I met John Singleton, and we did a show called "REBEL" together. In that process, he molded me into a director, made me shadow him, and take notes, because he knew I was a good writer, or at least [those were] his words.
What did John Singleton do for you as a mentor?
He was fun to talk to you, so I never told him to leave me alone, but he was a coach and in a sense a cheerleader for creatives. The one thing he always doubled down on is that you have to write your own material if you're going to make a way in this business as a person of color. When I went back and looked at everybody successful, whether it was Spike, Keenan, George Lucas, or Spielberg, they all wrote first and that has bled into our community of Black Entertainment of people of success that pave their way and wrote their material. They can say, "I want to direct this." That was the thing that John encouraged. He's like, "You're already a writer." And that's the part that is taking the vision, taking the script, taking the idea, and bringing it to life. You might as well see it all the way home. At one point, I was selling the scripts to studios, and I had made one independent movie called Uncle P, with Master P, who kind of showed me how a movie gets made. But John was saying, "You're writing these scripts? I've sold a dozen scripts to studios, why are you handing them off? You should take one and demand that you're going to direct it, or at least make the effort to direct it."  That was one of the greatest things that happened, to me being able to shadow and follow him on our own show becoming friends, and taking all that and applying it to my first movie.
What are the steps someone should take when writing a script?
I say the first thing is to have the tools. If you have a good movie idea or you think something is a good movie idea, you need to have this book called The Writers Journey by Christopher Vogler. It tells you what you need to have in your screenplay and how to break it down from story to script. The first act, second act, and third act. The second thing is to get Final Draft, which is screenwriting software that you can start to put your idea into the software, and it'll translate it into a script for you. I had those two tools from the first script I sold. The first script I sold was a romantic comedy called "Scary Dates." I had the idea about a guy going on a string of borderline horror movie dates, and I just started writing down the ideas … I was telling it to somebody, and I think that's the part that takes the mystery away. You write down your idea, just like you went to the movies and said, "Hey, man, what was Black Panther about? Well, it's this brother, he lives in this place called Wakanda, his family is royalty, he protects the kingdom, and he's got a super suit." The same way you tell somebody how you watch that movie is your idea on that paper, you just write down what you think that version of the movie is. I always go watch at least six or seven movies in the vein of the movie idea I'm thinking about. If it's an action movie, I'm going to go watch some action movies that I think are close to my idea. If it's a buddy movie, I'm going to watch Bad Boys, Lethal Weapon and Friday. If it's a horror movie, and depending upon the genre, the horror movie, I'm going to rent Chucky and The Exorcist.
How do you deal with difficult actors?
I've worked with difficult actors and I think you just have to take that with Zen and pretend like you don't see that. If you let their special ways or things that they want to do try to intimidate you, you're just feeding into it if you respond to it. I try to just be super Zen about it. I think that's the way you get through it. This movie was an opportunity to say something, and it was wrapped around an action movie. I think my guys in the movie, Tyrese, Terrence, and even Jeremy Piven understood that. They understood there's a story here and there are cultural things we're touching on and things that are happening in society. They understood that and I think that's why they were willing to give me a little extra when I need it. "Can I get one more take? Can you do it like this for me? Can you trust me when I asked you just to do this?" And they did that for me. In the process, we were all happy. It is an independent movie so we had to do that outside the system, and then get it in the system. Ten years ago, that movie would have been on 2,000 screens in the movie theater, because of the stars I had in it, and the movie is quality. But now they make money on demand or Netflix.
Should directors stick to their niche?
I don't want to put anybody in a box because I feel like that's another thing we do. We say that person just does romantic comedies or that person just does karate movies, or that person just does whatever. But I think there are two sides to the coin. Spike is a great example of somebody who's done a lot of different things, and his stuff is really good. Spike rarely misses because he's got his flavor. He puts his flavor into everything he does and I think for me, those are the movies that I gravitate to. Those are the movies that I want to create. Some people venture out of the box to do a period piece or romance but they're known for action movies. I'm trying to create a purpose for my brand. The purpose is to create genre movies for us because we need those. I'm trying to reflect that brand in my movies, so I'm going to stay in that lane. That's where I think I'm going to be successful. I think sometimes if you're not successful in one area, and you go to another area, and you're not successful there, it's hard for people to figure out what it is and who you are.
What kind of movies should we expect from you in the future?
I'm learning how to execute and get the things during production that I need. I'm learning what that is and how to get that done. I'm trying to keep the trajectory of going up, not necessarily budget-wise, but just the trajectory of doing good movies, and putting points up on the board. I still don't feel like Netflix is calling me saying, "Here's a check, go do what you want." But I'm going to continue to take these opportunities that are given to me to write direct. I'm doing genre movies. I'm doing action, sci-fi, or horror because those are the three lanes that I like to stay in. I can say something, and in each of them, I can get a good story. Those are the things I was attracted to as a kid, because of the type of movies I'm writing now. Those are the movies that we need. When I was going to the video store as a kid, a lot of stuff I was renting, we weren't in them. I want to continue to just kind of do wild things that make me go, "I want to see that." We've been suppressed by our imagination, sometimes in movies and TV. We keep seeing these slave movies, pimp movies, or drug dealers on network TV, because that's what they feel like we're [relegated ]to, and you won't see that from me.
How has being a director changed your life?
Being a director has changed my life by allowing me to change other people's lives. I've been able to hire people that's been in a movie for the first time. I've been able to hire Black hair and makeup artists, Black ADs, and PAs. For some of them, that was their first opportunity on a movie. I've been able to give people an opportunity that goes from our little TV show on BET to starring in her own show on NBC right now. … The thing about my journey, we were able to change some other people's lives and to me, that's powerful. You know, being able to hire people as powerful as being able to be the boss is powerful. And depending upon what kind of boss you are, you could be blessed for it or you could be cursed. You could be that boss [that] nobody likes that wants to pee in your tea. I'm not that boss. I try to treat everybody the same and that was something Singleton instilled in me. You're the director, everybody's looking to you for leadership, and you're the boss. You treat the PA, caterer, star of your movie, the first AD, the guy holding the lights, and the dude driving everybody around all the same because they're all here for you. If they like you, and if you treat them fairly, they'll work harder for you. If you're an a–hole and yell at them, they ain't gonna do nothing but wait until they get off, and dread coming back the next day.