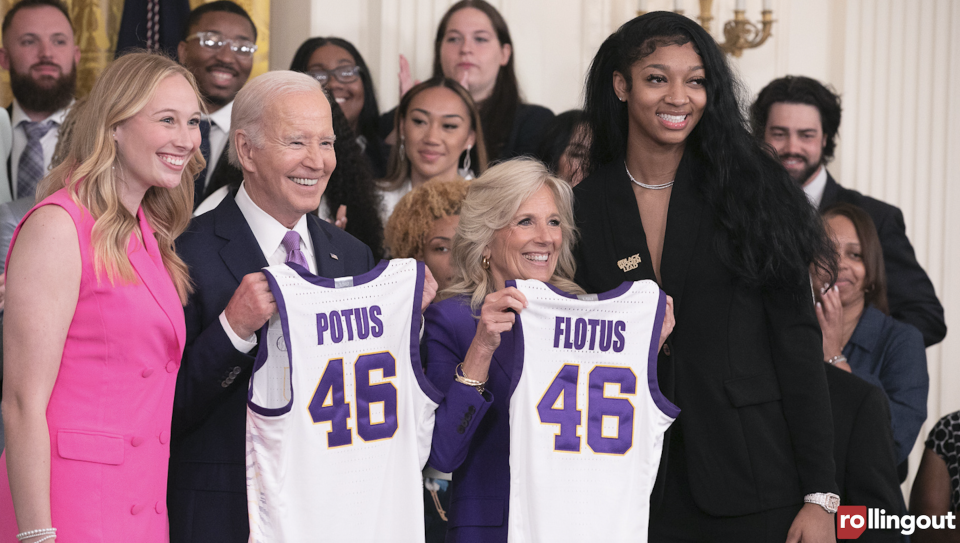 It was another event-filled day in the nation's capital on May 26. The White House hosted "College Day" where the NCAA men's, the UConn Huskies and women's basketball, the LSU Tigers, national championships were honored for their big wins. The UGA football team was also invited, but the Bulldogs and head coach Kirby Smart turned the offer down.
"We're all here to celebrate a remarkable group of student-athletes," President Joe Biden said. "Angel [Reese], Alexis [Morris], Jasmine [Carson], Flau'Jae [Johnson], the entire team. Less than a year ago, you'd never even played together."
One of the biggest storylines from the visit was Sa'Myah Smith, who passed out while Biden gave his speech.
During LSU women's basketball's celebration at the White House. FULL CLIP of Sa'Myah Smith Collapsing, watch the EYES. pic.twitter.com/gnZzZKl5RA

— Flinch Files (@FlinchFiles) May 26, 2023
Smith regained her consciousness and reassured everyone she was OK after the visit.
"I guess you can say I left my mark at The White House!" Smith tweeted.
All is well! Thank you to the first responders and everyone who helped, you all are greatly appreciated! I guess you can say I left my mark at The white house💜!

Geaux Tigers💛! https://t.co/EA27QQ3aam

— Sa'Myah Smith (@samyahsmith5) May 26, 2023
Another storyline from the trip was Reese greeting Jill Biden. After LSU defeated Iowa in the national championship, Jill suggested both Iowa and LSU received invitations to the White House. Not only did Reese and Johnson publicly criticize the suggestion, but Reese also said the team would decline Biden's invitation and just go to "the Obama's" house. Reese presented the honorary LSU jerseys to the President and First Lady. After the exchange, Reese gave Jill a hug.