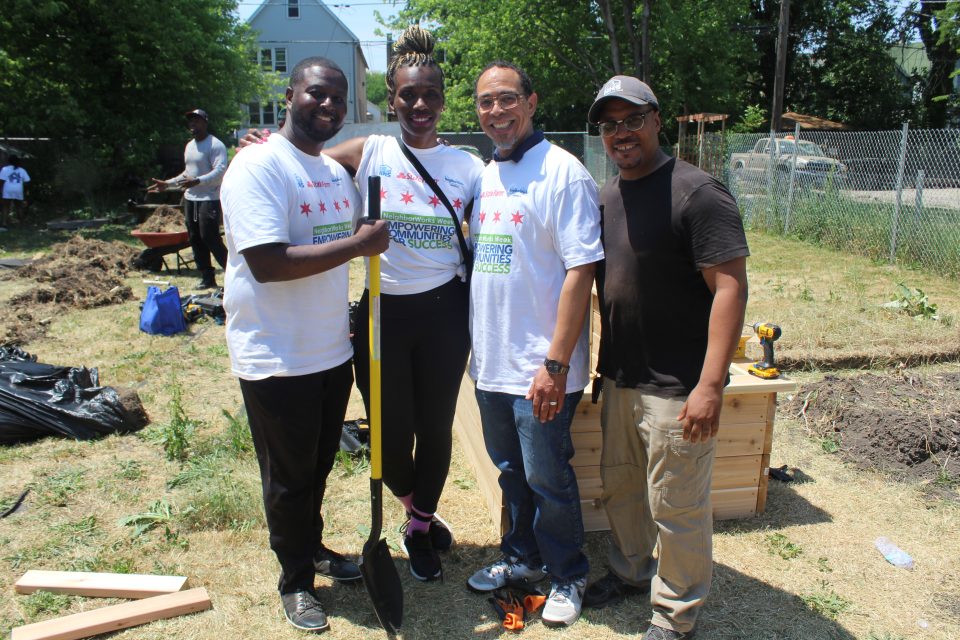 Neighborhood Housing Services of Chicago and the community of Englewood came together on June 3, for a day of fun, food, and service. NeighborWorks Days take place annually during the month of June. NHS partners with different neighborhoods for the purpose of education, neighborhood beautification and to demonstrate the power of community. Volunteers, community leaders, stakeholders and residents work together to implement clean and green activities. On this particular NeighborWorks Day, NHS Chicago and residents planted flowers and built garden beds to assist in beautification. In the process, the residents get to know each other and learn about the services that NHS Chicago offers.
"We're out doing community work, we're door knocking, we know the people in the neighborhoods. Our employees live in the neighborhoods that we serve. Our clients are not just clients, they're our neighbors. They're our family members. This is an example of how we continue to be embedded in the neighborhood … and sit on our boards. This helps us to know the residents, understand their challenges and their aspirations, and make sure that we are looking for programming and resources that address both those needs and those aspirations." said Anthony Simpkins, president of and CEO of NHS Chicago
The Englewood community of Chicago is one that is rich in culture and strives to be an example of a community working in harmony to change the narrative of their neighborhood.
"There's no conflict. There's no issues. It's teamwork. Community means coming together, enjoying your neighborhood, promoting the good in Englewood highlighting the beauty in your neighborhood, [along with] working together to make it whole, thriving, livable, walkable, and safe. That's what community means to me. We can rely on each other when we need them. This is my community now." said resident and NHS consultant Rashanah Baldwin.
NeighborWorks days continue throughout the month of June. NHS Chicago offers a variety of services centered around community and home ownership. To learn more you can visit nhschicago.org.