Porn star Moriah Mills shattered the euphoric moment in Zion Williamson's life when she exposed their sexual relationship right after the NBA star and his girlfriend Ahkeema announced their gender reveal party.
https://www.instagram.com/p/CtKDtIsrZQD/
Now, Mills is pleading for Williamson to put a muzzle on the folks who are allegedly threatening her life after she disclosed their supposed private sex life on social media.
The scorned adult entertainer has already been mercilessly trolled online after she went on a prolonged tirade about Williamson's plans to move on from her. This included dozens of Twitter posts that exposes large money transactions Williamson made to Mills as well as multiple conversations between the two.
She admits that she is crushed at being discarded, not to mention the fact she will no longer be fed the $100K-a-month allowance he was allegedly gifting her.
https://twitter.com/moriahmillsss/status/1667675197678166021
https://twitter.com/moriahmillsss/status/1667657798128214016
Moreover, Mills claims her menstrual cycle is late and that she may also be pregnant with Williamson's child.
https://twitter.com/moriahmillsss/status/1667775740794773505
Among her litany of Twitter posts, Mills now claims that folks are threatening to lay hands on her.

Mills' plea for Williamson to step in follows an Instagram post that, according to Complex, was delivered to Mills by a person who wrote on Instagram under the name @nikkijzo: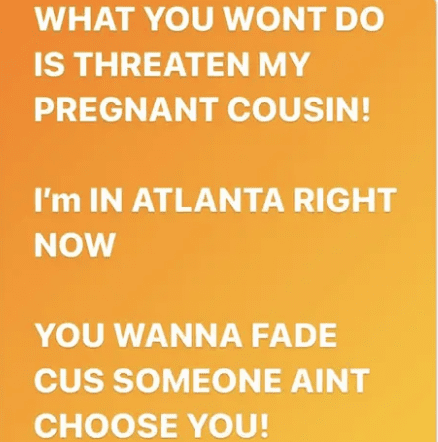 The threat allegedly comes from someone related to Williamsons' pregnant girlfriend.
Williamson has yet to address the alleged threats nor the specter of Mills possibly being pregnant at the same as his girlfriend is expecting a baby.
As Williamson wallows in abject international humiliation, his personal debacle has spawned innumerable jokes and memes on Twitter, television shows and radio outlets.