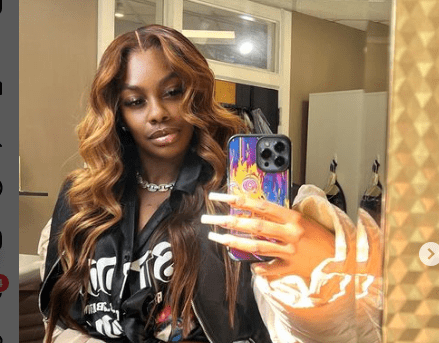 Jess Hilarious sparked a Twitter war with Summer Walker after she said her boyfriend Lil Meech has a bad odor and should "keep cheating" on the singer.
Hilarious, 29, was guest-hosting on "The Breakfast Club" when she made the stunning revelation about Lil Meech's hygiene habits, or lack thereof.
I guess #SummerWalker And #Meech tag teamed #JessHilarious in the comment section under #TheNieghborhoodTalk Post and then pulled the DMs lol 😂 pic.twitter.com/5uk16dyIdY

— SkoolBoi (His/Him/He) (@Skool_boi) June 23, 2023
First, Lil Meech responded and said that Jess Hilarious must like "smelly" men because she sent flirtatious messages in his DMs. Next Meech tagged-teamed with girlfriend Summer Walker to drag the comic.
"Jess your really a weird a– b—-. What black woman hoped another black woman keeps getting cheated on lol like hug? That's dark," Walker raged, according to the Daily Mail. "& then congratulates a man, tries to link with him n turns around a short time later to say he stink [sic].
"Have you even met either of us? I understand you wasn't nobody's first choice on that show [MTV's 'Wild N Out'] but this isn't how you try to solidify your spot. Like you JUST missed being a n—- by a chromosome lord forgive me but damn!"
Walker then torched Hilarious by saying she is "ugly" on the inside and out. "'You'd think being so ugly you'd try to be sweeter. Being ugly inside and out isn't a good combination & will NOT get you far in this industry."
https://www.instagram.com/p/Ct0T4IZs5SR/?utm_source=ig_embed&utm_campaign=loading
Jokes began to fly when an unidentified woman, who was not Meech's girlfriend, was allegedly wearing his hoodie and chain. Jess Hilarious believes that Meech needs to continue his alleged infidelity because it produces the best Walker music. 
Meech fired back by saying the comedienne and fans need return to their miserable lives. 
"Y'all need help and will believe anything, Summer ain't going nowhere so everybody can go back to their f—–d up lives and keep hating — we on vacation."
https://www.instagram.com/p/Ct0KsqyJJ_p/?utm_source=ig_embed&utm_campaign=loading