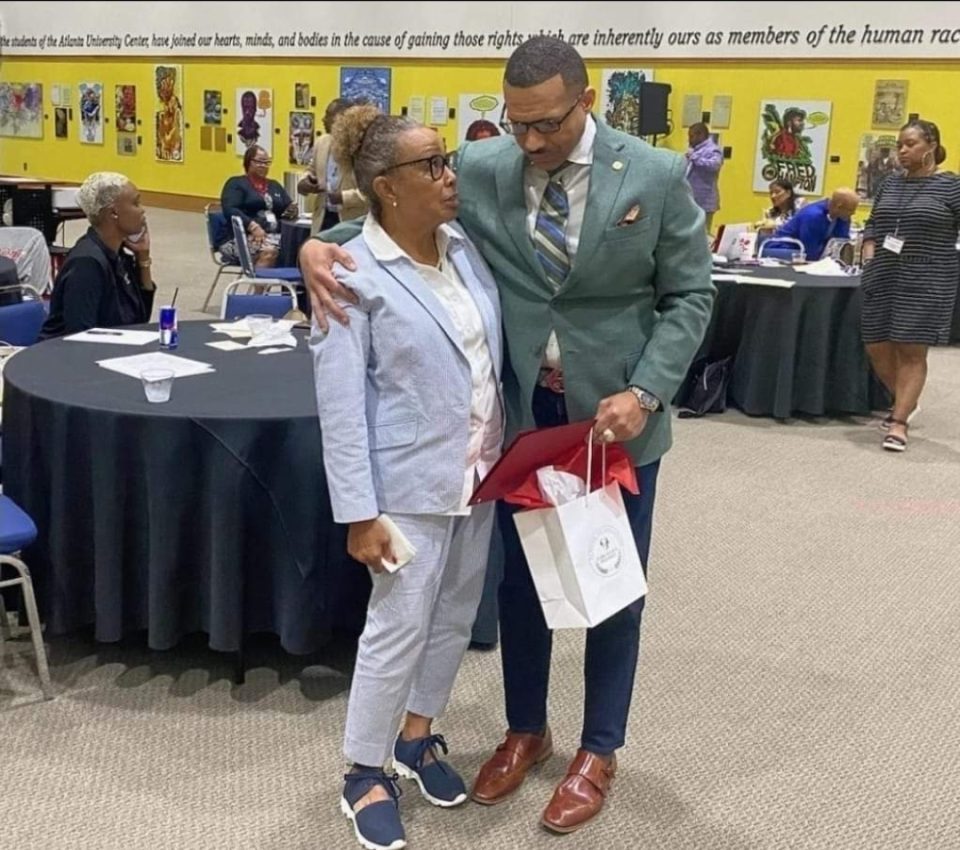 Clark Atlanta University (CAU), through the Department of Educational Leadership, led by noted scholar, academician, and chair Dr. Barbara Hill, bestowed their distinguished alumni award to former doctoral research graduate and media personality Rashad Richey. CAU is a premiere HBCU in Atlanta, and has over 4,000 active students. The University is well known for its trailblazing persona, producing some of the world's most effective leaders. Under the leadership of University President George T. French Jr., Ph.D., JD, who has been called one of the most effective college presidents in America, CAU has experienced significant growth.
According to CAU, the Department of Educational Leadership in the School of Education produces generations of educational leaders. The department embraces the mission and core goals of the University and the School of Education, seeking to prepare leaders for diverse communities, with special emphasis on urban centers. The department offers a comprehensive focus on leadership theories validated through a performance-based curriculum, with special emphasis on problem identification through the use of various tools of research, including information and data analysis, generating alternative strategies for addressing the strategic problems and the application of those strategies in the field through the supervised performance-based practicum.
Richey, who was in the first program cohort, graduated from the CAU Higher Educational Leadership Doctoral Program in 2020 and says the experience provided the necessary academic and social science background he needed to become a more exacting and effective leader. He also attributes his success to the leadership and faculty who challenged him to go beyond the book and dive into the heart of the matter. Dr. Richey credits his Dissertation Committee Chairman, Dr. Chike Akua, a world-renowned scholar and lecturer, with helping him see the intrinsic nuances of cause-and-effect relationships associated with systemic structures and disproportionate outcomes, particularly within the context of historically marginalized communities. Dr. Richey said, "Everyone in the department had the same goal… to bring the best scholar out of each of us. I remember during the final stretch of the program when a lot of mandates must be met in a timely manner, calling Ms. Betty 20 times in one day, and she answered every single time."
While many know Richey as the Emmy-nominated political analyst for CBS News Atlanta, or through his other massive media platforms, he is also a noted university lecturer and professor who lectures at some of America's most reputable universities, including the University of Michigan, Randhart University, Morehouse School of Medicine, Morris Brown College and other notable institutions. Dr. Richey also serves as President of OcuPrep Medical Institute in Atlanta, a Georgia Nonpublic Postsecondary approved higher education institution offering technical education in health-allied fields.
Appointed by current Atlanta Mayor Andre Dickens to the South River Forest and Public Safety Training Community Task Force, Richey has successfully helped government and private sector organizations navigate tough policy challenges for the benefit of communities at large. He has received numerous awards and recognitions from US presidents, members of Congress, and community organizations across the country.
Understanding the importance of narrative, Dr. Richey is the daily news anchor for the national TV news show Indisputable with Dr. Rashad Richey, which is nationally syndicated on 12 cable networks and recently ranked 'fastest-growing news show in America', by HEG, LLC, with 2.8 million viewers a day. The show's companion Facebook Watch and YouTube pages have a combined daily following of 1.9 million people. Coupled with Dr. Richey's SiriusXM Urban View show and his podcast, which is ranked in the top 5% of most listened-to podcasts in America, Dr. Richey is arguably one of the most influential academic scholars in American culture according to the national publication Business News Trend.
In addition to completing doctoral studies at Clark Atlanta University, Dr. Richey holds several advanced degrees, including a Master of Business Administration from Beulah Heights University, Master of Science in Neuroscience from the University of Pacific, Master of Laws (LL.M.) from the University of Renaissance, Master of Applied Physics & Quantum Mechanics from Universidad Empresarial de Costa Rica, and holds a Ph.D. from the Business University of Costa Rica. A member of Delta Theta Phi Law Fraternity, Dr. Richey is close to completing his Juris Doctor (law school) degree at Birmingham School of Law and has been accepted as a Senior Research Fellow in their Ph.D. in Quantum Physics program at the School of Life Information Science & Engineering at Asia Pacific School of Business, which will partner with Clark Atlanta University for the program's physics lab requirements.
Dr. Richey is a youth mentor, advocate, and author of a new book, Ancient Egyptian Mastery of Quantum Physics, Vibratory Frequency, and Geometric Sciences: An Overview of Complex Scientific Applications in Ancient Cultures, which is currently listed as the '#1 New Release' in Dynamic Physics and Science categories on Amazon.