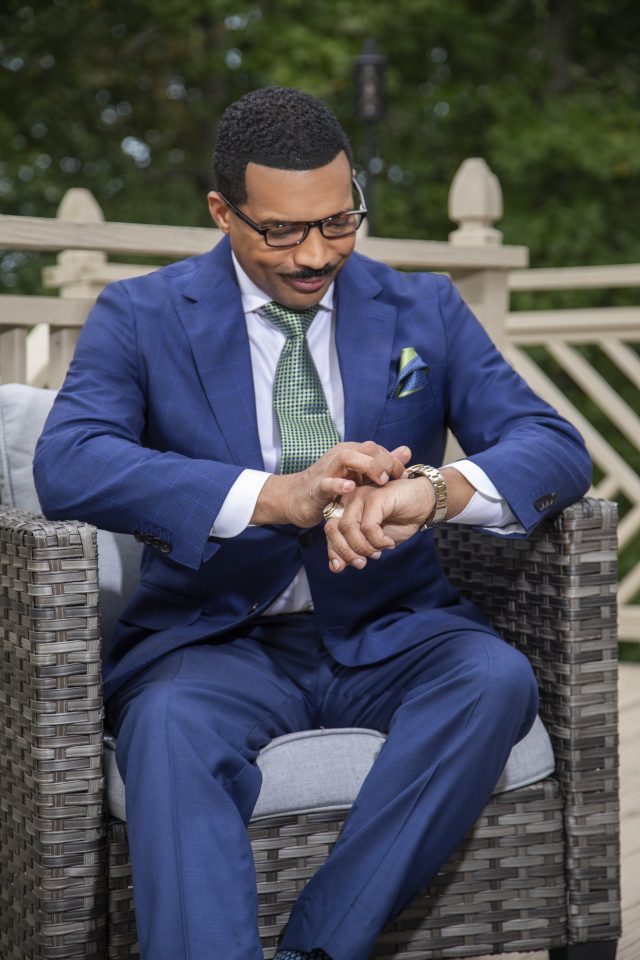 Rashad Richey Named With Tyler Perry, Atlanta Mayor Andre Dickens, and others; Atlanta's Most Powerful Leaders by Atlanta magazine 2023
Annually, Atlanta magazine releases their special edition publication highlighting the Atlanta's most powerful leaders. For the third year in row, Rashad Richey has topped this list and continues to grow his broadcasting and entrepreneurial empires. Through media, higher education, and business ownership, this award-winning radio personality and national television opinion news anchor has been blazing the trail since he kicked down the doors of industry conformity and did it "his way."
Known for his intellectually insightful and fiery commentary on-air, Richey is a noted social scientist, university professor/lecturer, broadcaster, author, and entrepreneur. He is Emmy-nominated for his work as a television news political analyst for CBS News Atlanta. Nationally, Richey has provided robust political commentary on MSNBC, CNBC, BBC, BNC, Fox Business and the Fox News Channel, breaking down pressing issues in American culture.
His live daily television show, "Indisputable with Dr. Rashad Richey" was named "Fastest Growing TV News Show in America" and airs LIVE Monday – Friday at 2:30pm – 4pm ET on the TYT Network with distribution across multiple national linear cable stations and streaming platforms, including, The Roku Channel, Pluto TV, Xumo, Comcast, Xfinity X1, Samsung TV Plus, TCL, YouTube, Facebook, Twitch, and more. The show is also available on virtually every podcast platform, including Apple Podcast, Spotify, Amazon Music, Audible, and iHeart.
Weekdays from 7 a.m. – 10 a.m., he is host of the popular "Rashad Richey Morning Show" in Atlanta on News & Talk 1380 – WAOK and V-103 FM (HD3). Sundays, Dr. Richey can be heard on SiriusXM's Urban View Channel 126, bringing listeners a powerful hour of political, social, and policy news they may have missed during the week in his "Dr. Rashad Richey Review' weekend wrap-up.
Dr. Richey was voted "Best Talk Radio Personality in Atlanta" by readers of the Atlanta Journal-Constitution (first African American to receive this distinction) and named "Most Trusted Voice in Atlanta" by the Atlanta Business Journal. Richey serves as president of rolling out magazine, the largest free-print urban publication in America, owns multiple radio stations and commercial properties across the country, and is a well-known thought leader, actively involved in policy reformation and addressing the social ills stemming from racial disparity.
He was honored with a Presidential Lifetime Achievement Award from former United States President Barack Obama and has received various accolades for his social advocacy, media acumen and philanthropy including being the youngest inductee into the National Black Radio Hall of Fame.
Richey was awarded the Global Media Icon Award – Fox Soul and was recently inducted into the National Black College Alumni Hall of Fame which boast a very selective group of notable Black inductees including Dr. Martin Luther King Jr., Oprah Winfrey, Justice Thurgood Marshall, Ambassador Andrew Young, Benjamin E. Mays, Will Packer, and Nancy Wilson.
Richey holds multiple advanced degrees including three research-based, policy focused PhDs, an MBA, Master of Science in Applied Physics & Quantum Mechanics, Bachelor of Arts in Religious Studies & Philosophy, Bachelor of Science in Applied Psychology, and currently completing his JD (law degree) at Birmingham School of Law. National publication America News Now called Richey "one of the most academically-credentialed individuals in American history."