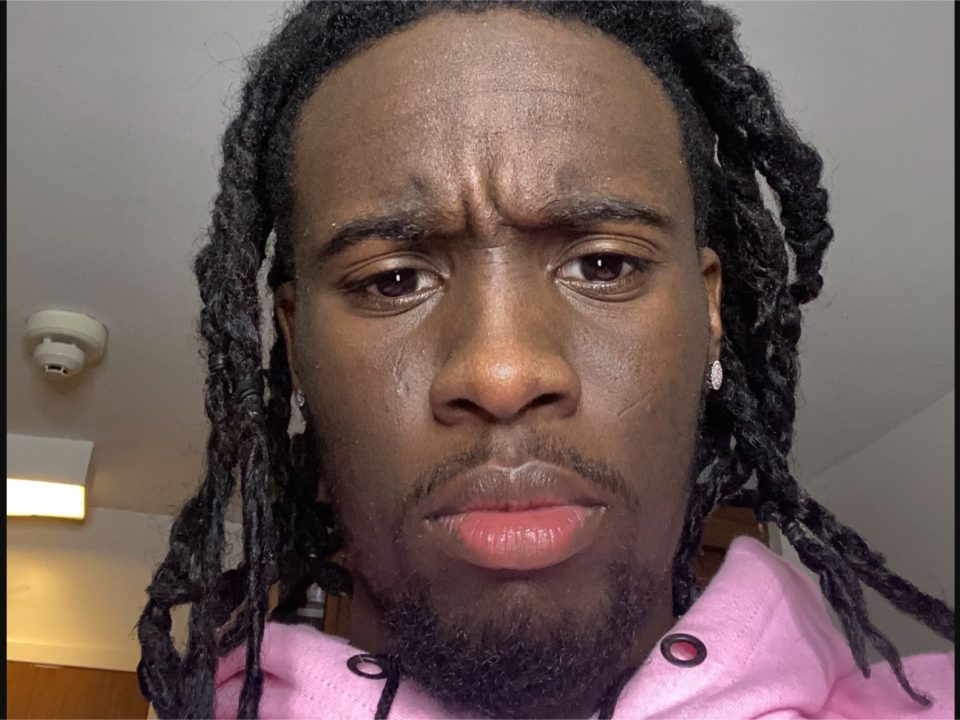 A plan to keep New York's young people out of trouble backfired when social media influencers were detained by New York police in a giveaway-turned-chaos on Aug. 4. Officials were seen on camera detaining Kai Cenat, Agent 00 and Duke Dennis at the pop-up event, with Cenat being charged with unlawful assembly, inciting a riot "and a few other charges."
Agent, Dennis and Cenat are all members of the content collective AMP, which stands for "Any Means Possible."
Nah why was they violating Duke Dennis like this at the Kai Cenat giveaway 😭 pic.twitter.com/6h9z2lVTss

— Qura (@Qurandale) August 5, 2023
The moment Agent 00 was arrested ..#FREEAMP pic.twitter.com/2ZEhcR7UPX

— ContentNewsTV (@contentnews_) August 5, 2023
Kai Cenat gets LIFTED by NYPD👮‍♂️#kaicenatgiveaway #kaicenat #AMP pic.twitter.com/34T7xpzIlj

— N3RO (@N3RONEWS) August 5, 2023
Cenat, who lives at the AMP mansion in Atlanta, came back to his hometown of New York to throw a gift giveaway for his supporters.
"Not only am I going to be in New York, but got d— the whole d— near AMP going to be in New York," Cenat said in a stream two days before the giveaway. "So guess what I decided to do, chat? I decided to say f— it. I called up my boy [fellow AMP member and New York native] Fanum, and on Friday, we will be doing a huge giveaway … y'all might be wondering what giveaway are y'all going to do? Yes, it will be a meet-up, yes, I'm going to drop the location and yes, my n—- is really going to pop out. You want to know why? I call this one, 'Stay off the streets, and go stream, n—-.'"
Cenat frequently talks about how streaming changed his and his family's life, coming from struggle to a life of luxury.
The giveaway reportedly was going to consist of free computers, Play Station 5s, microphones, webcams and gaming chairs in Union Square, according to CNN.
Cenat was removed from the crowd by police for safety reasons, and due to his not obtaining a permit for the event, it was classified as unlawful assembly. When officers arrived on the scene, attendees began throwing objects at the police.
"We were crushed, we were pushed," an NYPD representative told reporters. "I had officers on the floor. As you can see, I'm a little embarrassed, but I'm a little dirty [in my chest] because I was in the middle of the crowd, I was hit with multiple objects as well."
A video of officers smashing an attendee's face through the windshield of a taxi also went viral.
https://twitter.com/krassenstein/status/1687805317323599873?s=20
Cenat was also seen comforting a supporter once the chaos ensued.
Kai Cenat helping one of his supporters that couldn't breathe🙏🏽 pic.twitter.com/YOeFwBpKNo

— Domain ➐ (@domainsdomain) August 5, 2023
Cenat is currently the most subbed streamer on Twitch with over 88,000 subscriptions. It costs five dollars to subscribe to a streamer on the platform. He has hit the platform's record of over 100,000 subscribers on a couple of occasions including during his February "sub-a-thon" where he streamed his every move for 24 hours for 30 days, including the month of February.
Celebrities sent their best wishes to Agent, Cenat and Dennis.
How you lock Kai up for giving back to his fans….New York be trippin!!!

— OFFSET (@OffsetYRN) August 5, 2023
free them AMP boys

— DDG (@PontiacMadeDDG) August 5, 2023
I will be representing Kai Cenat in Court…He is in good hands pic.twitter.com/6oDZzD9fPm

— DRUSKI (@druski) August 5, 2023
Cenat appeared to be out of custody on the morning of Aug. 5.
Best News All Day ! 🙏🏻 God Is Good Always they had to free them guys ! #kaicenat #amp pic.twitter.com/gruPIpXbd6

— DeejayRoseyy (@DeejayRoseyy) August 5, 2023