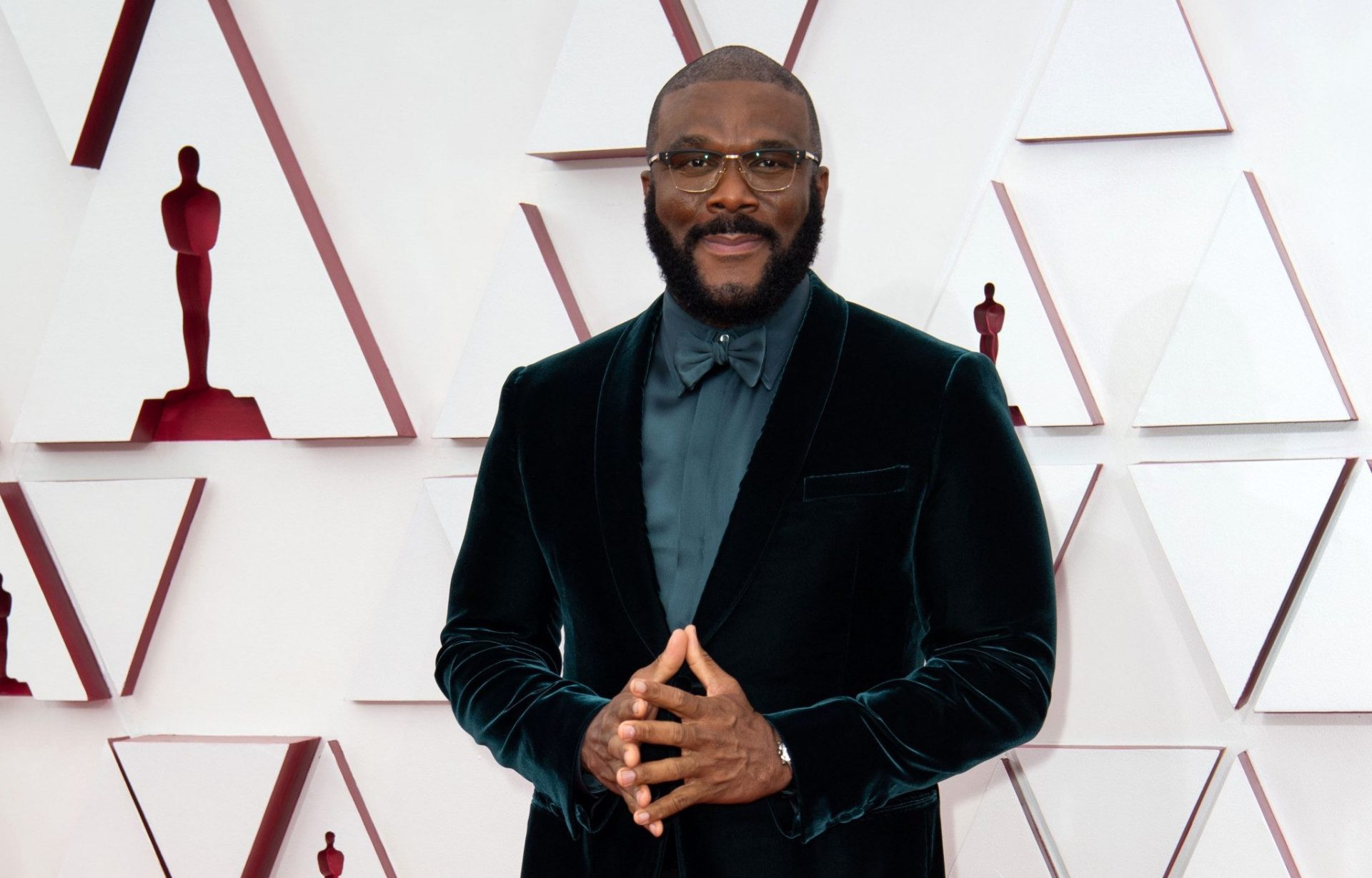 Movie magnate Tyler Perry is taking incoming fire after he advised Black women to love a man who may earn less than them.
The owner of the nation's largest movie production studio prefaced his statement on the oft-triggering topic by alerting the podcast host, "I may get into trouble for this, but I'm going to say it anyway."
Perry, 54, explained his opinion to "Keep It Positive, Sweetie" host Chrystal Renee Hayslett — who stars in the hit drama series "Zatima" — on Black women being more accepting if their men cannot take on many the bills in the household.
"In our society right now, Black women are making a lot more money, for the most part, than Black men," he began ."If you can find love, if that man works at whatever job and is a good man, and is good to you, and honors you, and honors the house, and honors his wife, and does what he can, that is okay."
Tyler Perry with a message for the women out there 👀 how do y'all feel about this ?? pic.twitter.com/xCnaSZeoHH

— 2Cool2Blog (@2Cool2Blog) September 14, 2023
Perry's perspective incited a social media storm, with the vast majority of Black women objecting vehemently and with indignation that the billionaire business baron could utter such a suggestion.
Why doesn't a rich black man like Tyler Perry share knowledge,
insight, & tips to black men to position themselves to be better providers? 🤔

Always asking black women to adjust & accommodate to a patriarch system we didn't create & is designed against us is insane to me 🤯 https://t.co/VPQYZudfD4

— Ceyonce❤️ (@Skorpeeyo5) September 15, 2023
Tyler Perry always encouraging Black women to date down & that's the mf'n problem.
Why aren't we telling Black men to be more ambitious, career driven, invest in the right things, take care of the home first, etc.
Why is it always Black women come down to meet them where they at? https://t.co/YjnMVQvlf1

— Cacao 🇳🇬 (@OhWho_OhLu) September 14, 2023
My thoughts on Tyler Perry have never wavered. He's a mysogynoirist who lives to humble Black women. I loathe him & his buffoon alter ego Madea. That bitch made billions at our expense and has the audacity to want us to "live on love". He can bite the deepest part of my groin.

— MrsBundrige (@MrsBundrige) September 15, 2023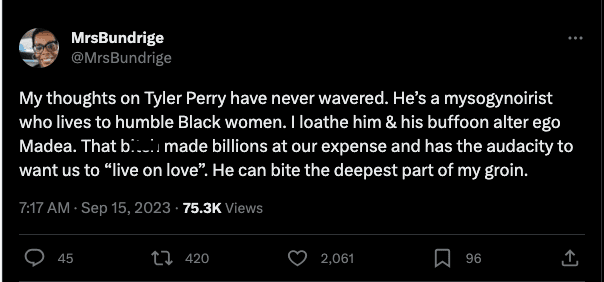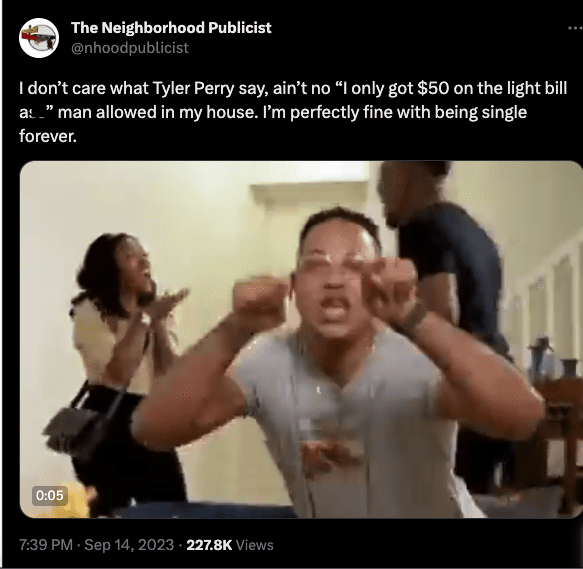 Are we really surprised Tyler Perry is telling BW to date down? BW dating down has been a plot in all of his movies. His character Madea is a stereotypical misogynistic caricature of older BW. This man clearly does not think highly of BW or believe we are deserving of anything.

— CeeCee Mari (@MariCeeCee98) September 15, 2023
I'm not taking relationship advice from a man I've never seen with a woman 🌚 #TylerPerry

— LaKyles (@_theelakyles) September 15, 2023