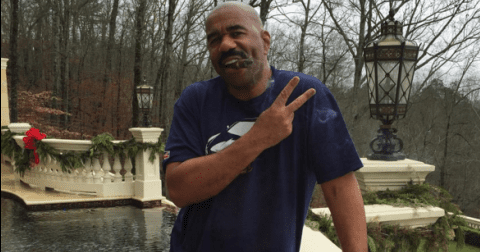 Steve Harvey stomped for bad Flint water jokes
Steve Harvey is no stranger to controversy. The media maven often courts it with his customary brusque and blunt comedy style.
But this time, the "Family Feud" host, took the jokes too far. On his latest morning show, Harvey got into hot water because of a vicious and sick Flint water joke he fired at a caller from the beleaguered Michigan city on his "Steve Harvey Morning Show."
Many listeners were aghast that Harvey could have been that callous and ruthless as to tell a listener to "enjoy your nice brown glass of water" simply because he disagreed with a sports opinion.
Harvey already has people looking at him twisted after a mean-spirited in-house memo was secretly released that told his underlings not to speak to him in the halls or in the makeup room — or anywhere else, for that matter, without an appointment.
Black Twitter was outraged at the Flint water "joke" and took the talk show host to task. Listen to what he said and check out the reaction on the proceeding pages:
" enjoy your nice brown glass of water" @IAmSteveHarvey dude sold out a long time ago… pic.twitter.com/tUSJyXav3C

— #Ezekiel2517✨✌?… (@SCOTTGOHARD) June 15, 2017
Steve Harvey's Flint water joke was disgusting! How much money does it take for a "Blk Person" to become a super COON??? pic.twitter.com/O15qU1Fk7k

— BlackUniverse44 (@justtbeingreal) June 15, 2017