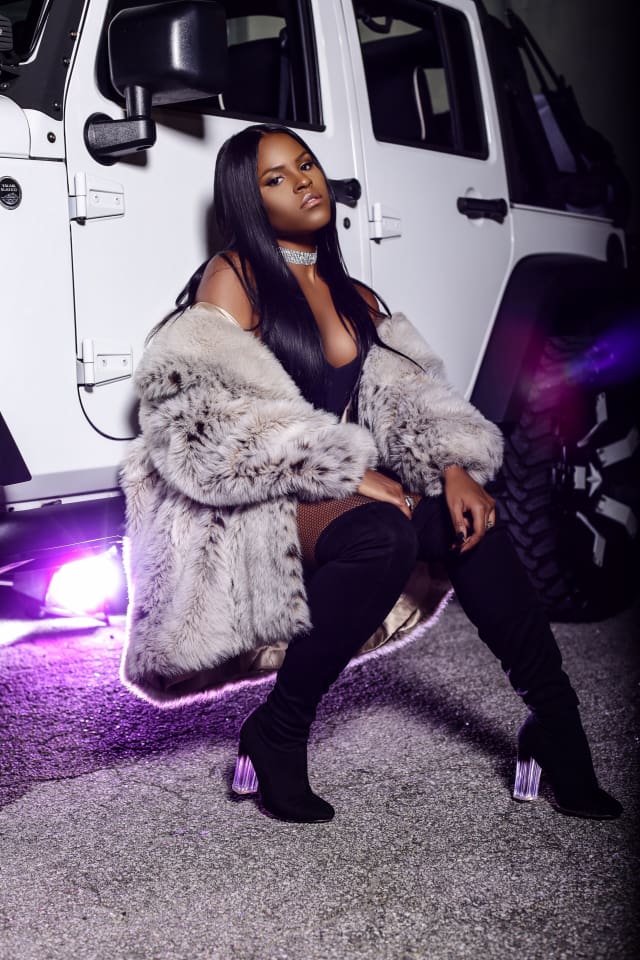 Being the new face of Miami's most prestigious hip-hop label, Slip-N-Slide Records, might be daunting for some, but not for 19-year-old singer Teenear. Teenear is equipped to fulfill her duties as an entertainer and provide the best content for her audience.
Her unique pop-urban sound is definitely drawing attention. Teenear credits hard work, dedication, and guidance from God in getting her to where she is today.
Tell us about your journey.
I've been singing since I was 5 years old and it's been a dream to me for the longest time. I believe the situation I am in was honestly just a blessing from God. Sometimes God puts you in certain situations for a reason. Having Ted Lucas in my life is nothing more than a blessing and I'm going with it. Being an entertainer is my life, I love what I do and I plan on doing it for the rest of my life.
Tell us about signing with Slip-N-Slide Records. How did you feel?
I'm honestly beyond excited about it. It's like a family. Everyone is super nice and very supportive. All in all, it's a blessing and a great experience.
What is it like being a rising pop star from Miami? 
It's amazing. I feel like I'm bringing something completely new out of Miami, something that a lot of people haven't seen and I'm excited to see everyone's reaction to me. I 100 percent believe that this was what God put me on this Earth to do.
What separates your sound from other artists? Describe yourself as an artist.
I always say I don't like being stuck in a box so I'm constantly trying new things. As I grow up, I'm changing and with that so does my music. Right now I feel like I'm very young and exhilarating and I don't think people know what to expect from me. My first single "Friday Night" feat. Sage the Gemini was completely different from my second "Streetlights" and my third single that is coming out very soon called "Last Night" is 100 percent different than the first two. Every time someone hears my voice I want them to say "That's Teenear?"
What inspires you to perform?
I can't say that there is a certain "thing" that inspires me. It's just something that's been in me for a long time, that I've loved to do and I'm so happy that I'm finally able to live what I've been dreaming about.
What does it take to be iconic, and who do you believe has achieved that status? Why?
Many people say that it takes hard work, a lot of time and a lot of dedication. Although all of that is true I believe it all starts with and comes down to your mindset. You have to have your head on right in order to get through the good and the bad times of being in the industry. Wanting to be iconic starts with what's inside. If you don't have a good heart and good intentions, it could all come crumbling down really fast. Beyoncé has achieved the status of an icon. She lived her life doing everything that she loves and has been nothing but a positive and empowering image in everyone's life.
What impact do you want your music to have?
I want the world to be shocked every time they hear my voice. I want them to hear something they weren't expecting and feel good inside about it.
What are your plans for moving forward with your career?
I have a few singles and an EP coming out this year called PONR that I'm crazy excited about. I feel like this year is going to be a true blessing to my life and I'm ready for it.
What's your social media information?
Everyone can follow me on Instagram, Twitter, Facebook and YouTube: @TeenearR and add me on Snapchat: Teenear321